Master carvers who have dedicated their life to teaching the art of whakairo say the government's latest $7.6 million investment in the New Zealand Māori Arts and Crafts Institute will allow them to keep the art alive.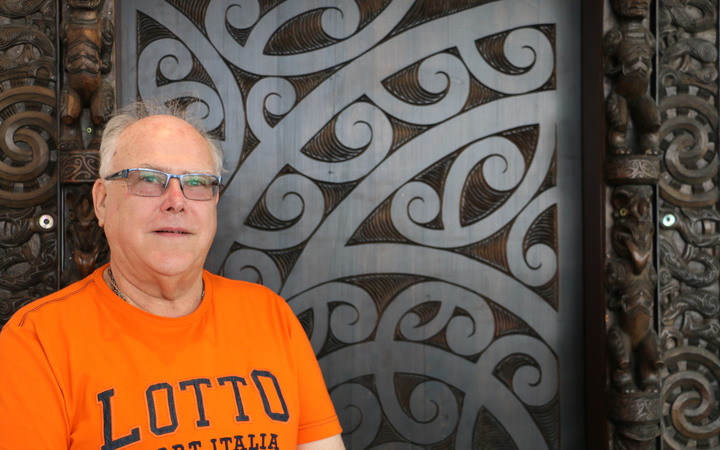 Clive Fugill says it is important to continue learning. Photo: RNZ/Justine Murray
The Rotorua facility – which sits within the Te Puia tourist attraction – laid off 150 staff when lockdown began.
For master carver Clive Fugill, who works there, the new funding is a lifeline.
The art of whakairo is in his blood, but it was there at the institution in 1967 where a much younger Clive Fugill was able to perfect his craft.
He said the government's investment over two years meant he could continue to share it.
"It means we can carry on the legacy that we've been set up to do under and an Act of Parliament," he said.
"It's about passing on the knowledge of carving to the younger generation. We bring young men in from all over the country to learn this art. The idea is to take it back to their communities, so it won't get lost."
The New Zealand Māori Arts and Crafts Institute is usually funded primarily by the Te Puia tourism operation, but border restrictions have cut off more than 90 percent of its visitors and forced it to close its doors.
Prime Minister Jacinda Ardern said the new funding would go directly to the institute.
"That funding is specifically for the institute here and the work that is done here," she said.
"We have $400 million overall that we're working alongside the tourism industry to make sure that we have an industry that continues to survive and thrive in the longer term. The wage subsidy, of course, is on top of that."
The future of tourism at Te Puia remains uncertain, but general Manager Eraia Kiel said the $7.6 million was going to allow the institute to open while the borders remained closed.
"Having staff and students back, that is our priority… today means we can carry on and fulfil those hopes and aspirations that our ancestors had for us."
With the memory of having to lay off 80 percent of staff still fresh in his mind, the support has come at a crucial time.
"It was really sombre times, it was really tough. In a matter of a week we had to close our doors," he said.
"To have the prime minister come here today, and her Ministers, to recognise that we are a legacy, cornerstone foundation for our country is really humbling."
The New Zealand Māori Arts and Crafts Institute first opened its doors in 1926 under the guidance of Sir Apirana Ngata, who saw value in advancing traditional art like carving and weaving.
Clive Fugill said Covid-19 cast doubt on whether that legacy could continue.
"Like everybody else we were very uneasy about the whole thing, because you didn't know whether we were gonna carry on with our wānanga, our schools. We're passing on a very important heritage.
"Sir Apirana Ngata once said, it belongs potentially to all of us."
Eraea Kiel said the institute could be up and running within the next few months.