Wellington's mayor has awarded the Key to the City to a celebrity inner city feline who has gathered a large following locally, and attracted international attention.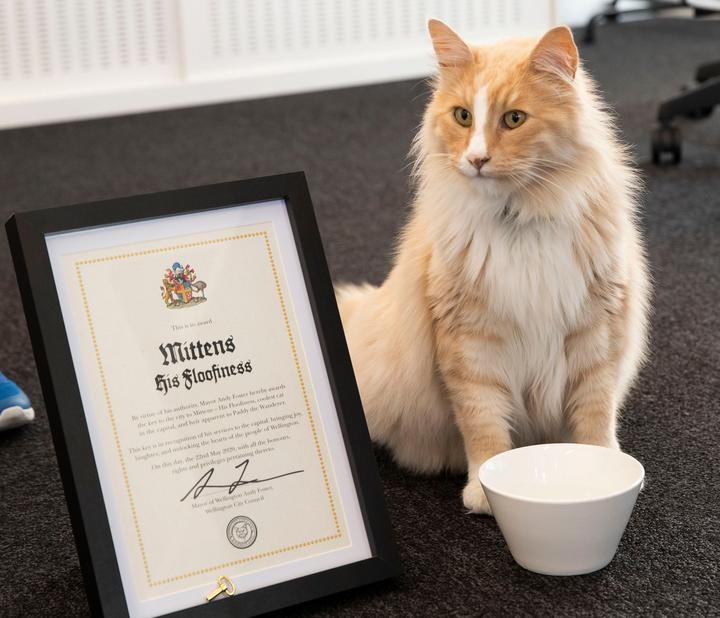 Mittens the cat, at a ceremony to present him with the key to the city of Wellington. Photo: Wellington City Council
Mittens, a sandy coloured long-haired Turkish Angora cat, is well known for roaming the inner city, and often spotted lounging on store display tables or wandering into office buildings. His exploits have been featured in a series of articles in New Zealand and international media, including The Guardian and The Taipei Times.
A Facebook group dedicated to his adventures has more than 45,000 members, with photos submitted almost daily by people who spot his appearances throughout the city.
The cat- about- town was awarded the city's highest honour at a ceremony last night, and presented with a formal certificate dedicated to "Mittens, his floofiness'.
Mittens on one of his regular city forays. Photo: Supplied
Wellington major Andy Foster says the award is in recognition of the happiness, laughter and coolness he brings to the city.
Previous recipients of the award include filmmakers Sir Peter Jackson and Sir Richard Taylor, and cricketer Brendon McCullum.
In a post to Mitten's Facebook page, owner Silvo Bruinsma said Mittens had taken the award in his stride as part of a busy day, and had celebrated the honour with a drink of water from a crystal glass.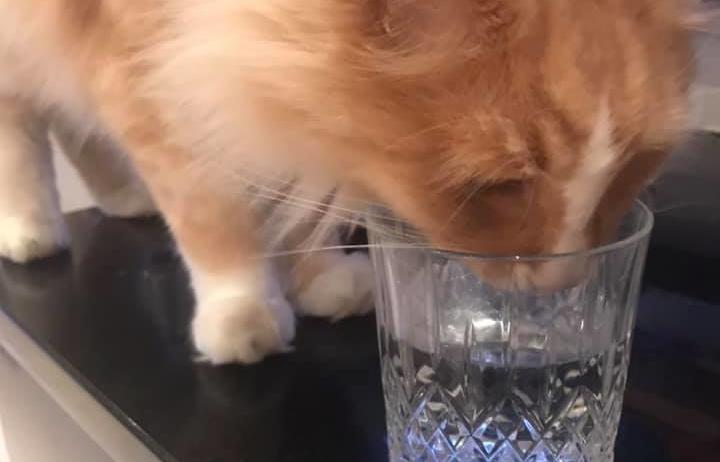 Mittens new status was saluted with a drink. Photo: Supplied
The certificate from the City Council describes Mittens as "heir apparent to Paddy the Wanderer". Paddy was a popular Airedale Terrier who similarly became known as a regular sight in inner city Wellington, during the 1930s.
Workers from the wharves, sailors and taxi drivers contributed to pay for Paddy's annual dog licence, and he was known to sometimes ride on Wellington's trams and taxis, and even hitch rides on ships to other ports in New Zealand or Australia.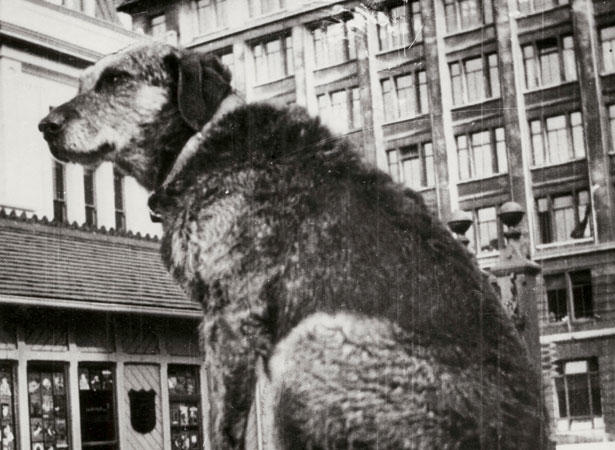 Paddy the Wanderer was a well known dog- about- town in Wellington in the Depression years. Photo: Alexander Turnbull Library
Last year, RNZ reported on Mittens paying a visit to the Michael Fowler Centre, two days before a production of Cats the musical.
Mittens spent a day touring the Michael Fowler Centre venue in 2019. Photo: Oliver Labone
In recent months Mittens has had to curb his wanderings, as he was kept home during New Zealand's level 4 lockdown.
The City Council said the award was originally planned for March, and was delayed by the lockdown, but Bruinsma, his owner was keen for the good news to be announced to help lift spirits.
"It's a great community story at a time when Wellington needs it most, and reflects the positivity he has brought to the people he encounters on his adventures," he said.
Mittens recent visits including making himself at home on the stage sofa in a bar, a trip to a strip club, and an appearance outside a dog grooming business.