Banning spitting on the ball could have major ramifications for the sport says Black Caps cricket coach Gary Stead.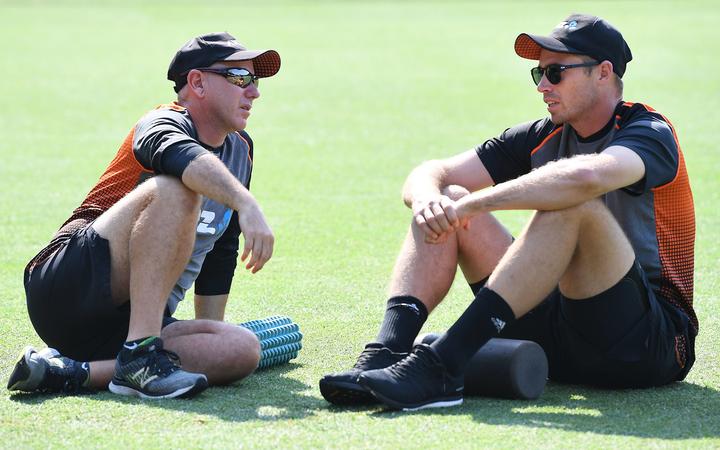 Black Caps coach Gary Stead and bowler Tim Southee chat before play on day two of the third Test against Australia in Sydney. Photo: Andrew Cornaga/Photosport
An International Cricket Council committee is recommending a change to the sport's laws in the wake of coronavirus.
Players will still be able to use sweat on the ball to help create swing but not saliva.
New Zealand's test opening combination of Tim Southee and Trent Boult are genuine swing bowlers and rely on the ball moving through the air to get wickets.
Stead agrees with the move but says it will require some different thinking.
"It may make people look at the way they prepare wickets or at the balance of your (bowling) attack to make things work for you and suit you best – I mean swing is important but you can still get sweat into the ball so I am sure there will be ways guys will still be able to do that," he said.
"It certainly will be a challenge for bowlers – especially when you might be playing in an environment where sweating may be difficult."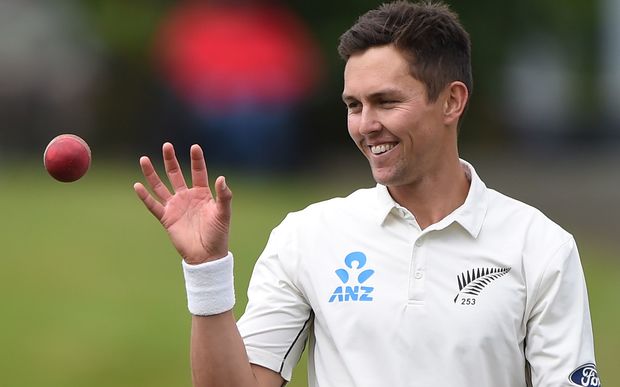 Black Caps bowler Trent Boult Photo: Photosport
Certainly on the face of it, the new ruling will hardly be good news for New Zealand – given Southee and Boult are among the foremost swing bowlers in the world but Stead says it's 'very much an unknown" as to just how much effect banning spit will have.
"Over the next four or five months with guys training it will be a little bit trial and error, with the different types of balls that we use and also different conditions – so it will be interesting to see what does work and what doesn't," said Stead.
Stead believes it will also put greater emphasis on warm up games ahead of any series as a side looks to gather information at different venues around the world.
There have been suggestions of bowlers be able to use wax or some other substance to improve the shine on the ball – something Stead is not inherently opposed to.
"This is the time when no cricket is being played when we should be trying different things and working out what is best for the game… cricket at its best is when you have a great balance between bat and ball and that's what we want to see as often as we can."