Analysis: Todd who? National's new leader is barely known outside the provinces and he's been given the job of taking on the most popular prime minister in history.
National's new leader, Todd Muller, is barely known outside the provinces and he's been given the job of taking on the most popular prime minister in history, Peter Wilson writes.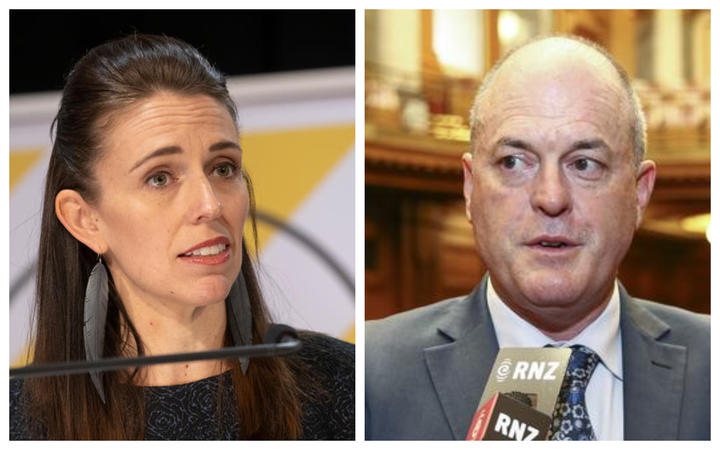 Prime Minister Jacinda Ardern's popularity has soared and the National Party's new leader, Todd Muller, will have to go head-to-head with her, a commentator says. Photo: Getty Images / RNZ
Muller wasn't chosen to win an election, he was chosen to avoid a rout.
National's MPs can't seriously believe they're going to beat the government on 19 September, not after two disastrous polls with one of them putting their party below 30 per cent.
That's a psychological barrier, and if MPs weren't spooked before it they almost certainly were after it.
Muller's job is to lift National above 40 percent so it gets through the election with a strong caucus capable of taking on the government during a second term.
Simon Bridges just couldn't survive the momentum for change which was building up before Covid-19 and intensified as Labour's popularity increased.
Michelle Boag, a former party president, got it right when she told RNZ it wasn't just about a couple of polls. It was also about months and months of negative feedback to MPs about Bridges.
National's MPs have taken a chance on the relatively unknown Muller to save their seats, and he has a huge task ahead.
Prime Minister Jacinda Ardern's popularity has soared to astonishing heights, and he has to go head-to-head with her.
He is a long-time party man and, as National's agriculture spokesman, he is known and reported to be liked in the provinces.
But radio and TV street interviews this week showed very few city folk knew who he was. Many of them will by the time the election is held because he'll be given a lot of media attention, but it's a steep hill to climb.
Before the last election it was believed that changing a leader close to polling day was political suicide for a party, but Ardern proved that to be false wisdom.
There are similarities between then and now but there are also stark differences. Andrew Little decided to stand down because Labour was polling very badly and he wasn't popular.
National is doing the same thing the hard way, but that's where the similarities end.
Labour was surprised and delighted when "Jacindamania" took off and the party's poll ratings shot up. She was young and fresh, a great communicator, and she went on to become a popular prime minister.
Hard slog awaits new leader
Muller is 51. One National MP, a Bridges supporter, told Stuff he was "pale, male and stale" and wasn't the right face for National. That MP could be proved wrong, but it's going to be a hard slog.
There isn't going to be any "Mullermania" to spark a great revival.
In a way, Bridges is a victim of Covid-19. It has to be remembered that before the pandemic National was polling strongly and had been since the last election.
Its support had held up so well that some polls forecast National snatching victory.
That was happening despite Bridges' poor personal ratings, and MPs were prepared to go along with him. There was a lot of muttering about his blunders and his poor presentation, but no strong urge to replace him.
That changed not because Bridges did anything disastrous but because Ardern was in charge of saving the nation from a deadly virus and she succeeded.
She had unprecedented media coverage through the daily briefings with the trusted Dr Ashley Bloomfield. She talked about her "team of five million" and thanked us all for doing so well.
It wasn't a political exercise. She was faced with horrifying scenarios in which thousands of Kiwis could die. She had to shut the economy down by putting the country into lockdown, knowing there would be serious long-term consequences.
Ardern and her cabinet made the hard calls, and the Covid-19 response has almost certainly succeeded in beating the virus. For that the nation is grateful, she pulled it off, and by way of thanks she has been made the most popular prime minister since polls began.
That is what Muller, the second term Bay of Plenty MP, faces between now and the election.
He does have some things going for him. He has a solid base in the provinces and a good business CV as a senior executive in Zespri and Fonterra.
He also has 40-year-old Nikki Kaye as his deputy, a city MP with a relatively high profile. That balances the gender and age factors in the leadership team.
Labour isn't going to sustain anything like the lead shown in this week's polls. Winning on its own with 70-plus seats? No way.
New National Party deputy leader Nikki Kaye will be an asset for Todd Muller, a commentator says. Photo: RNZ / Dom Thomas
Poll boost likely with Bridges gone
National will come up just because the unpopular Bridges has been replaced. The 30-point lead in the Colmar Brunton poll will shrink, perhaps quickly. National's caucus will recover from its introspective leadership obsession and start fighting.
It's said that in politics, anything is possible. There are four months of economic recession between now and the election. Victory for National can't be absolutely ruled out, but to get there Muller will have to the most capable opposition leader in history.
*Peter Wilson is a life member of Parliament's press gallery, 22 years as NZPA's political editor and seven as NZ Newswire's parliamentary bureau chief.