Spending has increased significantly as the country dropped to alert level 2 but not all retailers are seeing the improvement.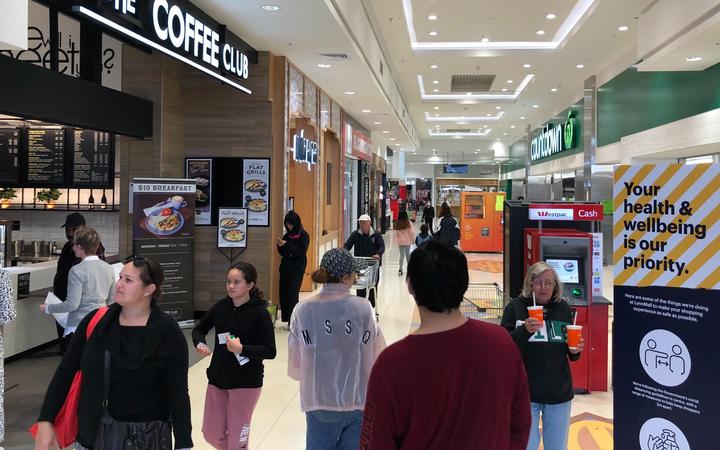 Shoppers at New Lynn Mall, Auckland, on the first day of level 2. Photo: RNZ / Jogai Bhatt
Excluding supermarkets, liquor stores and pharmacies, spending was down 90 percent during level 4 compared with a year ago, figures from Paymark show.
As more outlets opened last week, overall spending increased, but was still 26 percent below last year for the same group.
In the week ending Sunday 17 May, a period which included level 3 and level 2 days, total spending across all retailers was down by only 11 percent on the same week last year.
The impact of the lockdown and the improvement in level 2 have varied widely.
Supermarkets and some superettes and dairies had higher spending throughout level 4 and that continued into levels 3 and 2.
Petrol stations, on the other hand, were down in all three levels.
Some retailers, including pharmacies and fruit and vege shops, bounced back strongly in level 3, and picked up to be 13 percent on average above last year during level 3, and 27 percent above last year during the first four days of level 2.
A larger group saw very little spending in level 4 and three but are now doing better. They include some food takeaways, specialised food shops, liquor outlets, garden centres and stores selling electronics, appliances, hardware and floor coverings.
Almost a third of retailers – 28 percent – had little business during the lockdown and have only had a slight improvement, averaging 7 percent below last year in Level 2.
These include shops selling clothes, footwear, gifts, sporting equipment or books, and the hospitality sector of restaurants and cafes, takeaway food providers, motels and hotels.
Paymark spokesperson Paul Brislen said restaurants and cafes, some takeaway food providers, motels and hotels and tourist-related activities like car rentals are well down on last year and had improved very slowly since level 3.
"There's high hopes that once things do start to return to some form of normality that the retail sector will pick up as well and it's varied depending on which part of the sector you are in," he said.
"About a third of all retailers that we see, they've only marginally improved."
Brislen said these businesses would need a lot more support if they were to survive.
However there were "little pockets of success".
"Certainly in the first week where takeaways started again there was a huge bounceback for people who'd been hanging out for fish and chips. And also hairdressers – we've all rushed out and had our hair done."
The beauty and hairdressing group is running 61 percent above last year in level 2.
"We'll see how well that continues in the next set of stats," Brislen said.
The figures are of spending in-store, using any type of card, and do not include online spending.