Peace activists say New Zealand should not send a ship to take part in a major war games exercise off the coast of Hawaii.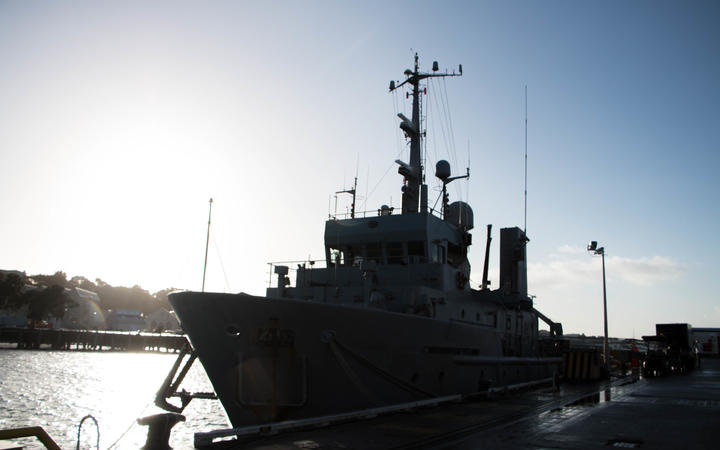 Photo: RNZ / Eva Corlett
The Rim of the Pacific exercise – or Rimpac – is the world's largest international maritime exercise. It happens every two years and typically involves military from at least 20 countries.
New Zealand is planning to send 66 personnel on its new dive vessel, HMNZS Manawanui, to the event in August.
Those behind a petition against Rimpac say it is not essential business, promotes war, and risks spreading Covid-19.
For Emalani Case, growing up near a military training area in Hawaii meant getting used to the sound of bombs.
"I felt bombed. I could feel my house and my body shake growing up and that became a normal thing. It wasn't until I grew up that I realised there's actually nothing normal about that."
Her home was less than an hour's drive from Pōhakuloa where military exercises are frequent.
Case said the land and sea were considered ancestors to Hawaiians, similar to Māoritanga.
"It hits your soul. To live on a piece of land that you view as your ancestor and to watch it get continuously abused, that has an emotional and spiritual impact. That's abuse on every level. That's impacting my ability to grow and be in tune with my ancestors and whenua and abusing the future generations who will continue to grow up in this toxic environment."
Case is now a lecturer at Victoria University and one of a number of peace activists behind a petition urging New Zealand to withdraw from Rimpac, claiming it is not essential business when Covid-19 remains a threat.
"The strategy there is that if we can get more countries to remove themselves from Rimpac then maybe it will get cancelled. Other joint military exercises have already been cancelled due to Covid, and we've seen examples over the past few months of these giant war ships serving as incubators for disease."
Due to the pandemic, the US has peeled the event back from the usual six weeks to two, said all exercises will be held at sea, and ruled out any on-shore socialising.
Defence Minister Ron Mark said the Covid-19 risk is being monitored but as it stands, the navy is going.
"It is a moving feast. Right now there is a commitment to deploy HMNZS Manawanui. The men and women of the complement of Manawanui are very much looking forward to participating although they know they will not be leaving the ship."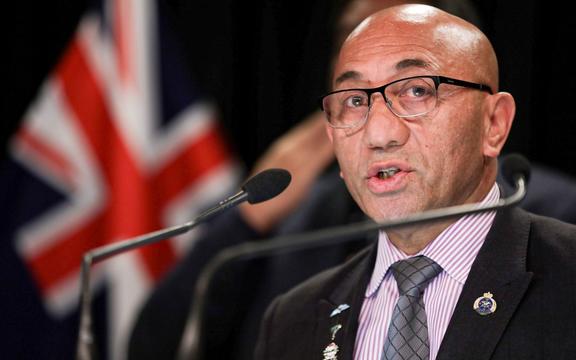 Photo: RNZ / Dom Thomas
Mark said New Zealand had a responsibility to protect the Pacific, maintain freedom of passage for ships and deploy into other areas "at the drop of a hat".
"To be able to do those things effectively we must train, we must exercise, we must know the people we're going to work with, we must have good relationships with them, and that is the value of exercising. And our women and young men of our navy absolutely need it but enjoy it as well, and they're damn good at it."
Mark said he welcomed the activists' protest, saying: "The women and the men of the navy train and prepare to defend that right every day."
The numbers are heavily scaled back from 2018, when New Zealand sent 300 personnel.
In a statement, the Defence Force said 66 crew will attend this year to test out scenarios ranging from disaster response to maritime security operations.
"During Rimpac, HMNZS Manawanui and crew will test capabilities used, for example, in humanitarian aid and disaster relief responses or other responses as required by the New Zealand Government," the statement said.
It said the transit time home is 18 days, so personnel won't need managed isolation on their return.
Valerie Morse, the spokesperson for the Cancel Rimpac Coalition, said the issue is bigger than Covid-19.
"We are very concerned about a war in the Pacific, about New Zealand's involvement in a potential war in the Pacific and we think these exercises are actually military bullying. And I think New Zealand could actually be a real leader in terms of peace and justice and say 'we're not going to be part of military exercises like Rimpac."
An expert in international law, Waikato University Professor Al Gillespie, said going to Rimpac with the US will help promote global stability.
"Doing a military exercise is very different to actually having an intervention in a country. Like if Trump put his hand up now and said 'look I want you to send me the frigates so we can go and do speed runs past Iran, I'd say no.
"But to do this kind of work, it's just maintaining a relationship which is now, over six decades old."
The Cancel Rimpac Coalition has a weekend of protest planned for 20 and 21 June.
Join Geezgo for free. Use Geezgo\'s end-to-end encrypted Chat with your Closenets (friends, relatives, colleague etc) in personalized ways.>>