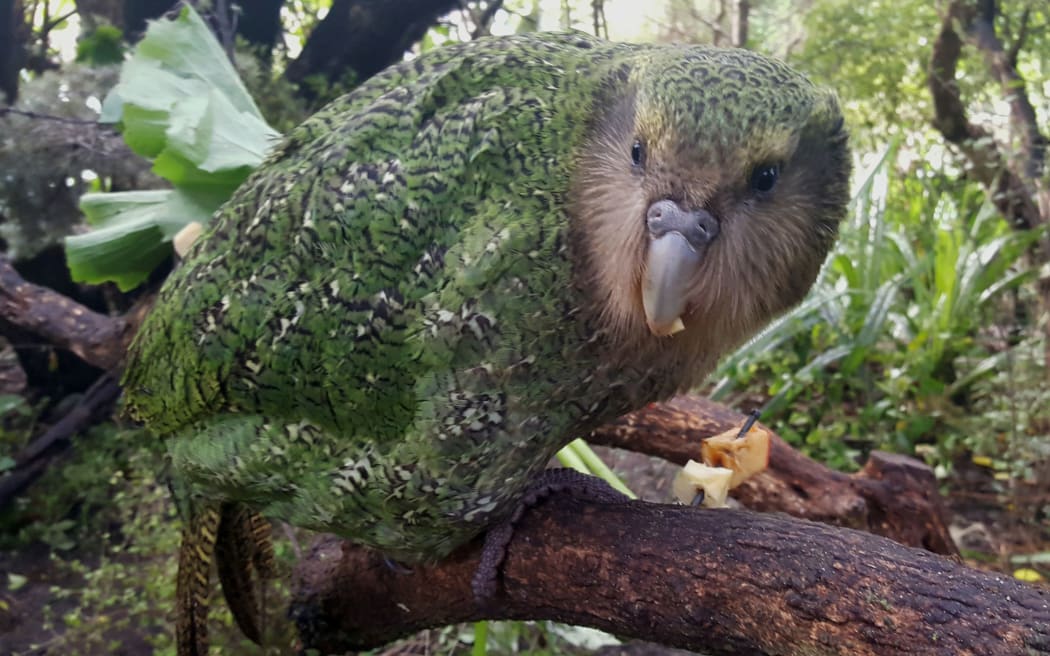 A juvenile kākāpō chick. Photo: RNZ / Alison Ballance
New research has revealed more details about what caused the 2019 kākāpō pandemic.
Many of them were hit by a fungal disease called aspergillosis and it wiped out 10 percent of the kākāpō population.
Genomics Aotearoa director Professor Peter Dearden told Afternoons it was a bit like a detective story trying to work out why.
In 2019, kākāpō were established on a few offshore islands and there were a lot of new chicks with the population increasing, he said.
"And then around the time those chicks were in the nest and starting to be a bit more independent, suddenly there was an outbreak of aspergillosis which is a respiratory disease, it affected quite a lot of the kākāpō."
Vets and staff at the Department of Conservation and wildlife hospitals rushed to get the birds off the islands and to scan and biopsy them and to treat those kākāpō that they could, he said.
But some of the kākāpō died and it was unknown why, at this point, the disease had started to appear, he said.
Aspergillosis was a disease which could also affect humans but it usually only hit organisms with badly damaged immune systems, he said.
"In this case we thought that the kākāpō had caught something, we don't know what, some unknown disease that reduced their immune system, and then they'd become infected by this fungus, aspergillosis.
"So aspergillosis is that fake mould that grows on your windows, it's everywhere in the environment."
Researchers initially looked at other environmental factors that could be making the kākāpō sick but could not find anything, so began look to the aspergillosis fungus itself, he said.
Generally, researchers would expect to find the kākāpō had been infected by multiple different strains of aspergillosis, but that was not the case, Dearden said.
"So it seems like this strain somehow has affected quite a large number of kākāpō and that's the unusual thing, that it's not necessarily that there's something underlying this that we don't know about, it's actually that they've been infected by a single strain of this fungus."
It was likely the strain could have been brought onto the islands by humans, he said.
"We found this particular strain not only on Whenua Hou where most of the kākāpō are, but one of the other offshore islands where kākāpō are kept and there's no real connection between those islands that would suggest that a single strain would be found on both for any other reason than it was being carried, somehow, by people visiting those islands."
It was an unusual situation that seemed to mean all the hard work that had been done looking after kākāpō had also somehow spread this particular strain of the disease, Dearden said.
Climate change may have also played a role as it was a particularly hot summer on Whenua Hou, and kākāpō nests are enclosed and tend to be warm and humid which may have also encouraged the mould to flourish, he said.
Department of Conservation staff had changed the way they looked after kākāpō in response to the research findings, he said.
"But also this is a bit of warning, you know actually these sorts of events which may be linked to climate change and may be linked to that intensive management that we're going to need to do with so many of our native species to really get them back on their feet, that actually in those situations you also have this possibility of those sorts of disease outbreaks."
The kākāpō incident showed that as well as working to preserve a species, researchers also needed look at the microbes around them and how they could be changed by working with the species, he said.