As anti-racism protesters clashed with police in Paris, in London, hundreds of mostly white men who say they were protecting symbols of British history clashed with police.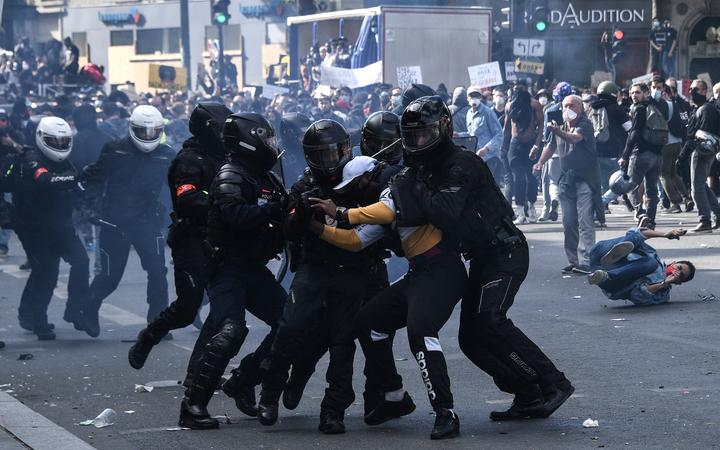 French riot police forces detain a protester during a rally as part of the 'Black Lives Matter' worldwide protests against racism and police brutality. Photo: AFP
French police have clashed with activists protesting in Paris against racism and alleged police brutality.
Police used tear gas against stone-throwing protesters who tried to hold a march that was banned.
The rally is part is a worldwide movement inspired by America's Black Lives Matter protests.
It was organised under the banner "Justice for Adama", after Adama Traoré, a young black man who died in French police custody in 2016.
Thousands of anti-racism activists gathered on the Place de la République in central Paris on Saturday. However they were blocked by police as they tried to stage a march to the Opera.
Clashes erupted and tear gas was fired as officers moved against the protesters. The march had been banned because of the possible threat to local businesses.
As the protesters started to gather, Assa Traore, Adama's sister, called on them to "denounce the denial of justice, denounce social, racial, police violence".
"What's happening in the United States is happening in France. Our brothers are dying," she added.
However French police have said they feel "insulted" by claims that they tolerate brutality and racism.
On Friday officers rallied on the Champs-Élysées throwing their handcuffs on the ground.
A protester wearing a protective face mask, holds a placard reading 'youth rises, the world trembles' during a rally in Paris. Photo: AFP or licensors
Why are French police in the spotlight?
France's police watchdog says it received almost 1,500 complaints against officers last year – half of them for alleged violence.
In one recent case, police are accused of seriously wounding a 14-year-old boy when he was detained on suspicion of trying to steal a scooter in Bondy near Paris last month.
On Monday Interior Minister Christophe Castaner announced a ban on the police "chokehold" method for restraining some suspects.
The announcement came after protesters took to the streets accusing French police of using brutality towards minorities.
Castaner vowed that there would be "zero tolerance" of racism in law enforcement and officers strongly suspected of racism would be suspended.
He has faced a backlash from police unions and officers, who denied that racism was rampant within their ranks.
France is one many countries that has seen a wave of anti-racism marches modelled on the latest Black Lives Matter protests in the US.
They were sparked by the death of George Floyd, an African American man killed on 25 May by a white Minneapolis policeman who knelt on his neck for almost nine minutes.
On Friday US President Donald Trump said the chokehold method should be ended.
What happened in London?
Meanwhile, police were pelted with bottles during confrontations with demonstrators in London, where hundreds gathered despite warnings to avoid protests.
Groups gathered in the centre of the capital, claiming they were protecting statues from anti-racism activists.
Home Secretary Priti Patel described the violence as "thoroughly unacceptable thuggery".
Some anti-racism demonstrations have also taken place across the UK, including in central London.
The Met Police had placed restrictions on several groups intending to protest, including having to finish at 5pm BST, following violent scenes last weekend.
However, several groups remained on the streets of central London after the cut-off.
As some protestors apparently moved towards Waterloo Station around 6pm, both the underground and mainline station were temporarily closed due to the protests – but later reopened.
Mayor of London Sadiq Khan urged demonstrators to "leave now" to prevent further violence and the spread of Covid-19 in the city.
Various groups from around the country, including some far-right activists, said they had come to London to protect symbols of British history.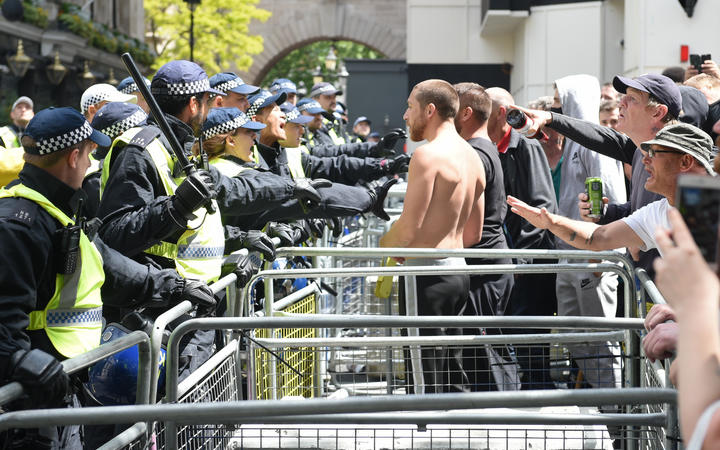 Members of far-right groups are pictured during protests against an expected Black Lives Matter demonstration in central London. Photo: AFP
Hundreds of mostly white men gathered around the Cenotaph war memorial in Whitehall and the boarded-up statue of Winston Churchill in Parliament Square.
There were a number of clashes with police in riot gear as crowds – chanting "England" and raising their arms – surged towards lines of officers.
Some protesters managed to break metal barriers around the Cenotaph on Whitehall while hurling flag poles, a smoke flare and a traffic cone towards police who were striking them back with batons.
Large groups of right-wing protesters then moved to Trafalgar Square, where fireworks were thrown across the crowds.
A statement from the London Ambulance Service said it had treated 15 patients, including two police officers, for injuries at the protests.
"Six of these patients – all members of the public – have now been taken to hospital." The ambulance crews remain at the scene.
Police attempted to stop protesters getting to Hyde Park where an anti-racist demonstration, which had largely been peaceful, was taking place.
Organisers from the Black Lives Matter movement had urged people not to join any anti-racism rallies planned for the weekend over fears there could be clashes with far-right groups. One demonstration planned for Saturday in London was brought forward by a day.
Sharing footage of the clashes with police on Twitter, Home Secretary Priti Patel described it as "unacceptable thuggery".
"Any perpetrators of violence or vandalism should expect to face the full force of the law," she wrote.
"Violence towards our police officers will not be tolerated."
The Met Police Federation described it as "unacceptable", tweeting that its officers "do not come to work to face this level of violence and abuse".
– BBC
Join Geezgo for free. Use Geezgo\'s end-to-end encrypted Chat with your Closenets (friends, relatives, colleague etc) in personalized ways.>>