Opinion – The irony is hard to escape.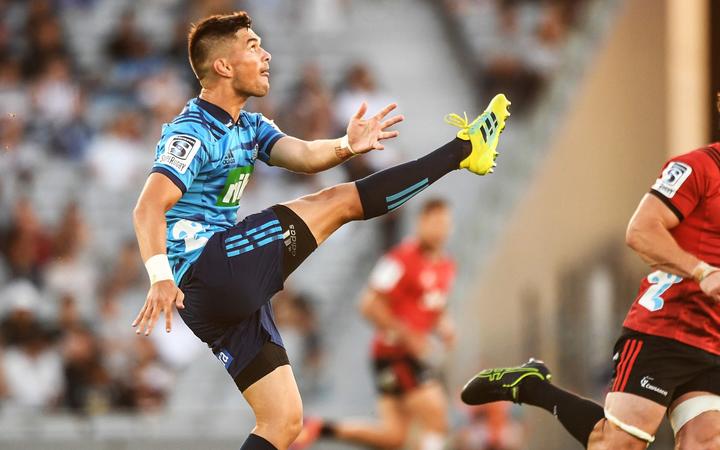 Blues first-five Otere Black Photo: Andrew Cornaga/Photosport
For years, the Blues have been nothing but a Super Rugby embarrassment.
Once the competition's benchmark, their seemingly irresistible slide to also-ran status has been something to behold.
Never mind the franchise's financial clout or personnel riches. Forget all of New Zealand Rugby's well-intentioned attempts to bring cohesion and credibility to the organisation.
Nothing looked as if it would ever resuscitate this ailing outfit. And then it happened.
Whether by accident or design, the Blues suddenly became an admirable and dependable side.
Games that would have been lost in previous seasons were now being won, thanks in no small part to the accuracy and calm coming from Otere Black at first five-eighth.
The Blues were fourth on the overall ladder when the 2020 competition came to a premature end, following some very fine away-from-home wins.
It was one thing to go to South Africa and beat the Bulls and Stormers, but to then dispatch the Hurricanes 24-15 at Sky Stadium was quite another.
Only none of those results count right now. They're not even confined to the dustbin of history.
No, thanks to Covid-19, those games don't even exist. And, what's more, the architect of those victories might become surplus to requirements too.
Teams can be delicate little things. The merest change in mood or personnel or culture can alter things entirely.
Routine and repetition – particularly when you're successful – become the order of the day, for fear of changing that winning habit.
In theory, adding Beauden Barrett and Daniel Carter to the roster ought to be grounds for a ticker tape parade. Both are all-time All Blacks greats who've also led franchise teams to the Super Rugby title.
They're also hugely marketable and popular players whose addition to the squad has seen interest in the Blues skyrocket.
It's just that, after years of fumbling around in the dark, the Blues have finally stumbled upon a winning method.
A method that you assume will be discontinued once Barrett and Carter get their feet under the table.
Blues playmakers Beauden Barrett and Dan Carter. Photo: Photosport Ltd
Again, the addition of those two makes the Blues look a lot better on paper. But it would be more than a little ironic if demoting Black from the role of primary playmaker meant an end to those wins as well.
Aside from the sheer novelty of having games to watch and crowds in the stands, Super Rugby Aotearoa looms as a genuine competition.
The poor old Highlanders might only be making up the numbers, but the Blues, Chiefs, Hurricanes and Crusaders will all believe they have the team to win the title.
I tipped the Chiefs at the very start of the year and they'll be glad to get a do-over, after home defeats to the Brumbies and Hurricanes first time around.
The Chiefs have a canny coach, in Warren Gatland, and more than enough good players to succeed, but doubts probably persist about their winning mentality.
The Crusaders have that in spades, obviously, and shouldn't be any weaker for Sam Whitelock's return from Japan and David Havili's recovery from stomach surgery.
Crusaders coach Scott Robertson also appears to be better than most at selling players on the notion of teamwork and sacrifice and it might be that he proves the ultimate difference this season.
Ardie Savea's return will aid the Hurricanes, but they look a playmaker short of a real championship side.
Not so the Blues. In Barrett, Carter, Black and even young Harry Plummer, there's any number of game-drivers to choose from.
The Blues have long had the forward pack to compete with the best teams. Where it's fallen over for them has been at first five-eighth.
Where composed and clinical performances were called for, a succession of Blues coaches got erratic efforts from their No.10s instead.
Black had begun to change all that, but it looks like he'll now be taking a back seat.
Join Geezgo for free. Use Geezgo\'s end-to-end encrypted Chat with your Closenets (friends, relatives, colleague etc) in personalized ways.>>