The New Zealand government has joined a chorus of international concern about China's plan to impose a national security law on Hong Kong.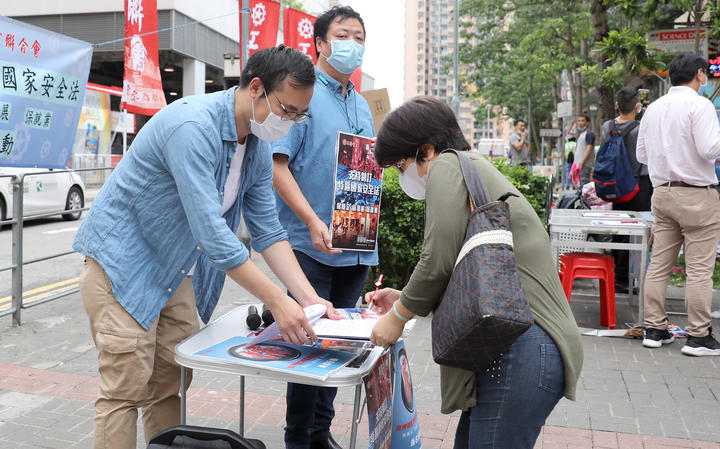 A woman signs a campaign in support of China's national security legislation for Hong Kong. Photo: Xinhua News Agency/ AFP
Bypassing Hong Kong's own lawmakers, China is seeking to ban what it calls treason, secession, sedition and subversion in the territory.
New Zealand Foreign Affairs Minister Winston Peters said New Zealand had a "strong interest" in seeing confidence maintained in the 'one country, two systems' principle that gave Hong Kong a high degree of autonomy.
Legislating on Hong Kong's behalf without the direct participation of its people and legislature would challenge that principle, Peters said.
"It is important that any national security legislation is enacted in a way that respects the fundamental rights and freedoms of the people of Hong Kong and has their support," he said.
The legislation could see mainland Chinese intelligence agencies set up bases in Hong Kong, raising fears of direct law enforcement.
US government officials said the legislation would end the Chinese-ruled city's autonomy and would be bad for both its and China's economies. They said it could jeopardise the territory's special status in US law, which has helped it maintain its position as a global financial centre.
Bankers and headhunters said it could lead to money and talent leaving the city. Hong Kong stocks slumped 5.6 percent on Friday
However, Hong Kong leader Carrie Lam said the stock market "goes up and comes down" and it was in fact the large scale pro-democracy protests in 2019 which destabilised the business environment.
"Especially having gone through almost one year of disruptions, violence and uncertainties, anything particularly in safeguarding national security that will help stabilise the environment is indeed very good for local investment sentiment," she said.
Henry Tang, a member of the Standing Committee of the Chinese People's Political Consultative Conference, said the legislation was "beneficial" for the business environment as it would bring stability and strengthen the rule of law.
– RNZ and Reuters