The murder of pregnant 21-year-old mother Angela Blackmoore in Christchurch in 1995 has been described as a cold-blooded execution.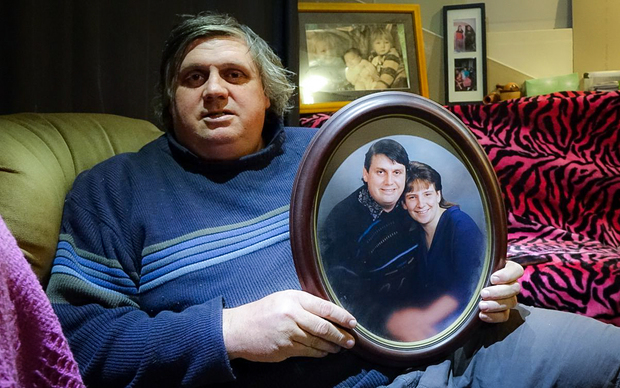 Laurie Anderson holds a picture of himself with his partner, Angela Blackmoore. [file pic] Photo: RNZ / Rachel Graham
In the High Court in Christchurch, 45-year-old Jeremy Powell was today sentenced to a minimum of 10 years in prison for the murder, after pleading guilty late last year.
On the night Blackmoore was killed, she was at home with her two-year-son when she let Powell into her house.
He had a large Bowie knife and a baseball bat hidden within his trench coat.
He attacked Blackmoore in her kitchen, hitting her repeatedly with the bat and stabbing her, leaving her with 39 wounds to her head and neck.
Her body was found by her partner, Laurie Anderson, when he returned home from work. Her son, Dillon, was still asleep in his bed.
In his victim impact statement, a sometimes tearful Anderson said Blackmoore, who was nine weeks pregnant, was looking forward to the arrival of their baby, and the new, exciting future ahead of her.
He said he was very lucky to see this wonderful woman.
"Just think how it would have been if someone had killed your partner when she was pregnant with your kid," Anderson said. "That is what you did to her son, and to me. There is no excuse for this cruel act you did to her who couldn't defend herself.
"The pain she must have gone through knowing you were going to kill her, then you viciously killing her. She was like a lamb to the slaughter with no defence."
He said nothing would bring Blackmoore back, but he thanked Powell for finally confessing to what he had done and trying to put it right.
The victim's cousin Gillian Herbert spoke on behalf of the family.
She said Blackmoore's mother and grandmother died without knowing what had happened to her.
She asked Powell what he was thinking when he attacked Blackmoore.
"Did you even once while you were attacking Angie give thought to her two-year-old son sleeping nearby?
"Did you consider what he was about to go through for the rest of his life without his mum," Herbert said.
"The brutality of the act was extreme. Did she scream? Did she beg you to stop? What were her last words? Did she suffer for long? These are just some of the questions her family have had for the last 24 years."
Herbert said she did not think that Powell had confessed for the right reasons, saying she believed he confessed for himself, and not for Blackmoore or her family.
Cousin speaks of her fears for her safety
Angela Blackmoore Photo: Supplied / NZ Police
Another of Blackmoore's cousins, Leanne Keen, was 13 when the killing took place.
She said in her victim impact report that for years she feared she too would be murdered and might never make it past 21.
She said if he had come forward years ago her family could have been saved years of anguish of not knowing who committed the crime and why.
"You have displayed no genuine empathy, compassion or remorse for those affected by your actions."
Powell has said the murder had been organised by others and that he was offered $10,000 to kill Angela.
In his pre-sentence report he said that he now saw there were a thousand other things he could have done, but at the time felt he was in over his head, and couldn't see a way out.
Confession brings relief – lawyer
Powell's lawyer, Donald Matthews, said his client was something of an enigma, as the man he was today was difficult to reconcile with the crime committed 25 years ago.
He said the crime had weighed heavily on Powell, and it was a relief for him to now have it out in the open.
"He is terribly sorry for what he did. He hopes to have the opportunity to say that directly to Ms Blackmoore's loved ones through a restorative justice conference," Matthews said. "That prospect absolutely terrifies him but he knows he owes it to them."
Matthews said Powell had previously gone to the house with the intention of killing Blackmoore before the deadly attack, but could not go through with it.
Justice Cameron Mander said Powell's background was unremarkable, and there was no history of offending, before or after this offence.
He said the raft of people who put in references for Powell say they are shocked by his confession, which they view as out of character.
A premeditated crime – judge
Justice Mander said the brutal attack was a cold-blooded execution, and was planned and premeditated.
"The entry of your guilty plea is to be tempered by the fact that you did not come forward to admit your guilty plea until the passing of some 24 years since the commission of your crime. It is emphasised by Ms Blackmoore's family that they have had to live with the tragedy of her unresolved killing throughout that period."
Justice Mander said because the murder happened before the Sentencing Act 2002 was brought in he had to adhere to the sentencing regime which was in place in 1995 when the crime occurred.
He sentenced Powell to life imprisonment, with a minimum jail term of 10 years.
Two other people, including Powell's ex-girlfriend Rebecca Wright-Meldrum, are also facing murder charges over Blackmoore's death. Details about their alleged involvement are suppressed.
They are expected to go to trial in February next year.
Join Geezgo for free. Use Geezgo\'s end-to-end encrypted Chat with your Closenets (friends, relatives, colleague etc) in personalized ways.>>