The man shot and killed by police yesterday was still in the driver's seat of a parked car at the time, they say, but "presented a firearm" at officers.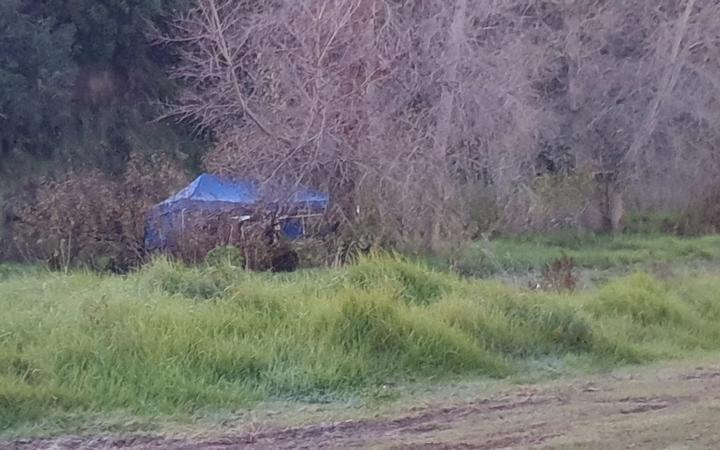 The scene of the fatal police shooting of a man on Mamaku Rd, south of Waitara, Taranaki. Photo: RNZ / Robin Martin
Police said the man was attempting to get out of the stolen car and had a cutdown .22 rifle aimed at officers.
They did not say how many shots police fired, or whether the man used his weapon.
Police were called at 3.40pm about a Brixton man in his 50s who was distressed and believed to be armed.
Using GPS data from the vehicle's owner, they found it partially concealed on Mamaku Road, off State Highway 3 about 4.10pm.
Central District Commander Chris De Wattignar said four armed officers approached the car and called for any occupant to get out, but there was no response.
"As the police officers got closer to the vehicle a male appeared in the driver's seat of the vehicle. He was challenged to get out of the vehicle and at that stage he presented a firearm at the police officers.
"The police officers challenged him to put the firearm down which he failed to do and the police officers shot the male and he subsequently died at the scene."
De Wattignar said the man appeared not to have left the vehicle before being shot.
"My understanding at this very early stage is that he was in the driver's seat swinging to get out with the firearm pointed at the officers."
He could not say whether the dead man had fired at the officers.
"We are not sure at this stage. He certainly presented the firearm at our officers. We would prefer to go through the investigation process before we release that information. It's not even 24 hours since this happened so we've got a process to go through."
De Wattignar said he was also unable to say how many shots police had fired.
"That's information that will come out of the investigation in the next few days once the scene investigation is complete. We've retained the four firearms that were carried by the police officers and they will undergo ballistics examination which will help us determine that."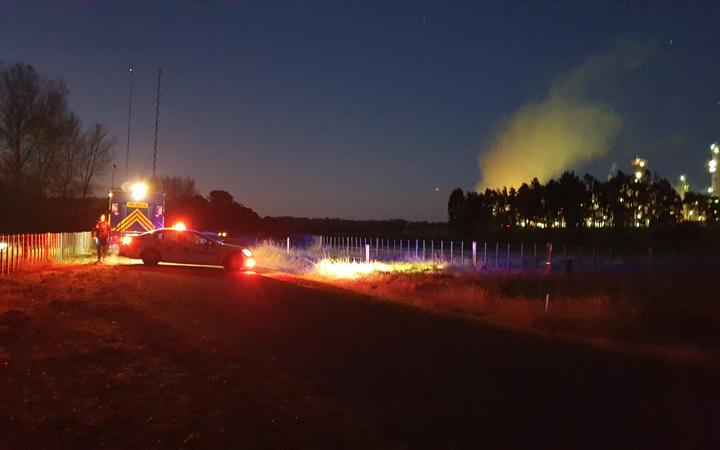 An investigation has begun into the fatal shooting of a man in Waitara. Photo: RNZ / Robin Martin
De Wattignar said he was satisfied the officers had taken the best tactical option available to them in the circumstances.
The four officers involved had been stood down for a mandatory 10-day period, he said.
He said no police officer went to work intending to shoot a member of the public and they were "devastated".
Police were also working with closely with the dead man's family, who were heartbroken, he said.
Shooting revives memories of Steven Wallace's death
Mamaku Road resident Morgan Watson was concreting at the back of his property at the time of the incident.
He noticed the commotion as police arrived in the area, which is popular with boyracers, but did not hear any shots.
"It's a sign of the times. The police have to do their job, you know.
"I'm still old fashioned – shoot them in the leg or something, but if you're still going to, go and do it – shoot them.
"You know, they've got to protect themselves first and foremost."
Steven Wallace Photo: Supplied
Watson was a family friend of Steven Wallace who was shot and killed by police in Waitara 20 years ago.
Wallace died on Waitara's main street in April 2000 after challenging police with a golf club he had been using to smash shop windows.
Watson said this incident brought back memories of that difficult time.
Mawene Bidois was grabbing some breakfast on McLean Street in Waitara.
He said the dead man – who police are yet to name – was a local sporting legend.
Bidois also evoked Wallace's memory.
"I've played league. I'm a true Waitara Bears man so when a legend like that passes away … nah, I call him a legend in my eyes. I'm quite shocked.
"It's quite odd. Is it becoming normal out Waitara here that cops are shooting … targeting … sportspeople because it's pretty well known that Steven Wallace was just down here."
A family friend of the dead man said he was a reasonable bloke and a keen outdoors man.
"And he loved his motorbikes … and he loved his hunting too. But yeah no one will know [what happened] until the outcome [of the investigation] but then police can sweep it under the carpet sometimes, you know."
The dead man was the fourth person shot and killed by police in Taranaki over the last 20 years.
Antony Ratahi was shot following a 12-hour standoff at Opunake's Headlands Hotel in July 2011.
Adam Te Rata Charles Morehu was killed after he fired at and threatened to kill officers responding to burglar alarms at New Plymouth Golf Club in June 2013.
A Critical Incident Investigation into this latest shooting is under way and the Independent Police Conduct Authority has been notified.
The death will also be referred to the Coroner.