One of our users recently asked us how to get their WordPress site listed on Google. Google, as the world's largest search engine, is quite adept at automatically detecting and listing new websites. However, it may not always automatically list your website. Because Google is the most important traffic source for most websites, it is critical that you get your website listed in Google as soon as possible. We'll show you how to easily get your WordPress site listed on Google in this article.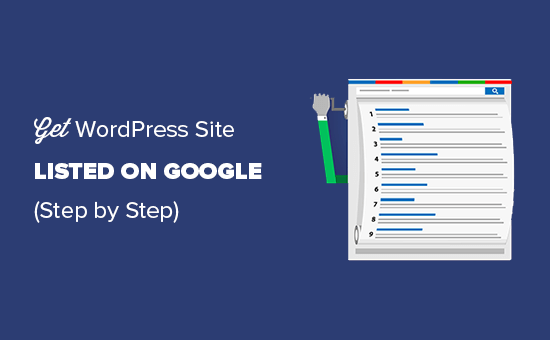 Why You Should Get Your Website Listed on Google?
Google is the top source of traffic and visitors for most websites. If you are serious about starting a blog or launching your small business website, then you need to get your website listed on Google as soon as possible.
If you are following the WordPress SEO best practices, then search engines like Google can automatically find your website. However this could take some time, and you will miss out potential customers.
But you can easily expedite this process. Let's take a look at how to get your WordPress site listed on Google.
Listing Your WordPress Site on Google
Before we start, you would need to create a Google Search Console account. You can easily set it up by following our step by step instructions on how to add your WordPress site to Google Search Console.
Step 1: Check WordPress Settings for Search Engine Visibility
After you have setup your Search Console account, you need to make sure that your WordPress site is visible to search engines. You can check this by going to Settings » Reading page and scrolling down to the Search Engine Visibility option.

Make sure to remove the check mark from this option, so search engines can crawl your website.
Don't forget to click on the 'Save changes' button to store your settings.
Step 2: Connecting Google Search Console with WordPress
The next thing you need to do is add your website to Google Search Console. We recommend using the URL prefix method because there are more ways to verify your site and you don't have to change your DNS records.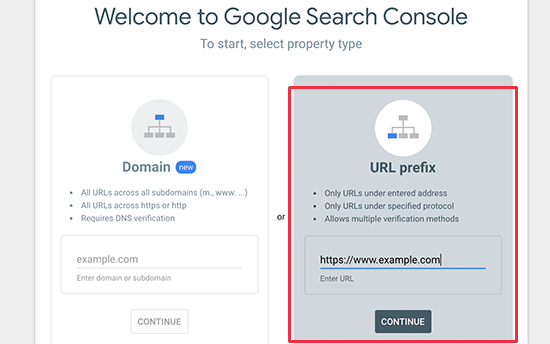 In the website field, you must add the full website URL. It is important that you use the same URL that you're seeing in your browser's URL bar including WWW or non-www as well as HTTPS.
Once you add the website URL, it will ask you to verify that you own the domain. There are multiple methods that you can use to verify ownership. The easiest way is to click the arrow next to "Other verification methods". This will give you a meta tag that you need to copy.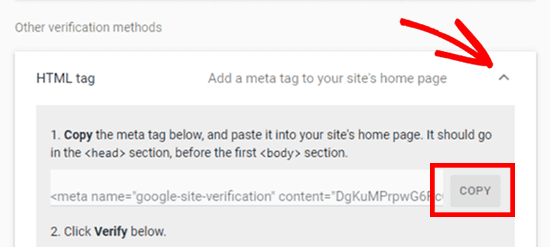 Next, on your WordPress site you'll need to install and activate the All in One SEO plugin. For more details, see our step by step guide on how to install a WordPress plugin.
Upon activation, you will see a new item in your WordPress admin menu labeled All in One SEO. Go ahead and click on the All in One SEO » General Settings menu, and then click the "Webmaster Tools" tab at the top of the page.
Click on the Google Search Console box, and paste the verification code into the field that appears.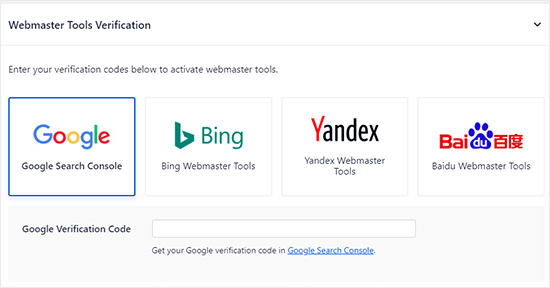 Once you are done, click on the Save Changes button at the top of the screen. Now go back to Google search console account and click on the Verify button. Your website ownership will be successfully verified.
If for some reason it doesn't verify, then you need to make sure that you clear the cache in WordPress.
Step 3: Setting Up XML Sitemaps
Once your site is verified, you need to go to All in One SEO » General page in WordPress admin area to verify your sitemap settings. By default, AIOSEO creates the sitemaps you need automatically.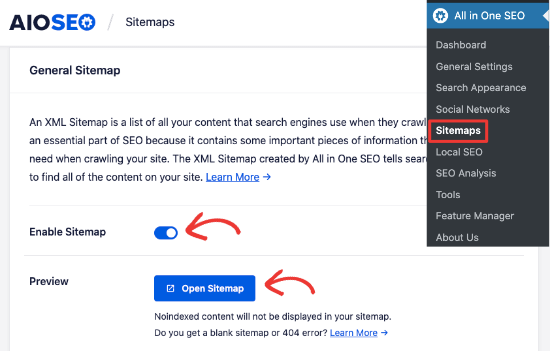 To view your sitemaps, you can click on the "Open Sitemap" button, or add 'sitemap.xml' to your URL (for example, www.example.com/sitemap.xml).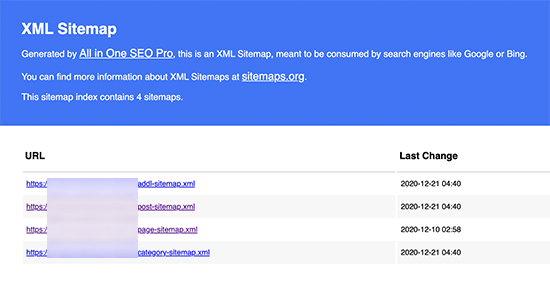 Next you need to submit your sitemap to Google webmaster tools. Sitemaps help Google search bots easily find and index your new content.
Step 4: Submitting XML Sitemaps to Google Search Console
Simply login to your Google search console account and select your website.
You need to go to Sitemaps on left side of the screen.
Then add the last part of your sitemap URL (sitemap.xml) under the 'Add new sitemap' section and click the Submit button.
Once you are done with these steps, you can visit your Google search console account to check your listings. Once Google has crawled and indexed your website, you will start seeing reports in search console.
Another important factor that affects search rankings is website speed. Slower websites are bad for user experience and are often ranked lower than faster websites. See our guide on how to improve your website performance
That's all. We hope this article helped you get your WordPress site listed on Google. You may also want to check our expert pick of the best WordPress SEO plugins and tools that you should use to optimize your website.