A new government plan to clean up pollution in the country's waterways is being met with a mixture of eyerolls, applause and mild panic.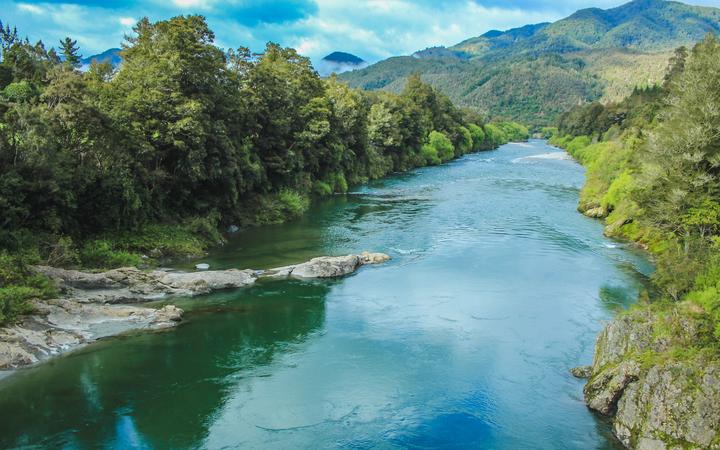 The changes aim to introduce higher standards for swimming spots. (file photo) Photo: 123RF
The long anticipated freshwater reforms set higher standards for swimming spots, impose limits on synthetic fertiliser, and order regional councils to come up with freshwater plans within a set timeframe.
What is missing is a cap on nitrogen pollution – something environmental advocates say we desperately need.
The new rules are also being labelled a missed opportunity by the iwi chairs forum.
Farmer organisations were overwhelmingly opposed to the original proposals, unveiled in September, and argued they would be left holding the bill.
In the final plan, the government has promised to fork out $700 million for jobs that will help with the efforts.
Fencing requirements were relaxed – down from a proposed 5 metres from waterways to 3m for new fencing.
The government has also decided that permanent fences in place before the regulations would not need to be moved to comply with the new rules.
South Taranaki dairy farmer Ross Dunlop was pleased to hear that.
"Y'know, there's been a huge amount of effort gone into fencing waterways and then to be told you're going to have to shift it another couple of metres would just be damned annoying, and would upset farmers unnecessarily."
The reforms state farmers must create environment plans, but the government says it understands that many farmers are already working to reduce their impact.
On Dunlop's farm, this is welcome feedback.
"I think most farmers are doing their bit and I think what is really important is most farmers want to actually be recognised for the good work they've done. It certainly is a move in the right direction."
Nitrogen decision frustrating – advocate
Environmental group Choose Clean Water has spent years advocating for a clear bottom line on nitrogen pollution.
They wanted a limit on dissolved inorganic nitrogen of 1 milligram per litre of water, but the government left that decision on the back burner for another year.
Choose Clean Water's spokesperson Marnie Prickett said it was unbelievably frustrating.
"This decision on nitrogen pollution is a really important one. In fact it's the main part of the policy that we've been asking for because it protects public health.
"It's around the quality of people's drinking water and it also protects the health of the river. So I think on this point I think the people who have been following this closely will be really disappointed and frustrated that they've kicked the can down the road for another 12 months."
A campaigner is disappointed the new policy has postponed action on nitrogen levels that affect drinking water. Photo: 123RF
Geologist and chemist Dr Jenny Webster-Brown is one of the scientists who served on the technical advisory group on the reforms.
She said the bottom line on nitrogen pollution "needs to proceed as quickly as possible".
She supported the suggested limit of 1mg/L, and thought the government will impose it eventually.
Dr Webster-Brown, also the incoming director for the Our Land and Water National Science Challenge, said the room was divided on the strength of the evidence.
"We submitted our thoughts as honestly as we could forward to the minister and he decided … I guess there's a feeling it needs further justification.
"If you're going to set a number it implies a certain level of certainty and evidence to back up that number and that's where the disagreement was."
Councils have been given until 2026 to finalise freshwater plans for healthy waterways.
Bay of Plenty Regional Council strategy and policy committee chair Paula Thompson said the timeframes are tight, but the orders were in.
"It's non-negotiable, ha. We've got a responsibility to deliver on it so obviously once we've worked through the detail of it, it may well be that we're going to have to realign our work programme, etc. But, you know, we've got to deliver on this so we will deliver as best we possibly can with our community."
Some gains but reforms not enough – iwi group
The government said it would be guided by mātauranga Māori in its implementation, but Freshwater Iwi Leaders Group chair Rukumoana Schaafhausen said the rules did not go far enough.
"It does embody te mana o te wai as the basis of the national policy statement around fresh water management. It recognises the importance of sustaining the health and wellbeing of water and it also includes mahinga kai as a compulsory value, and we must acknowledge those are gains," she said.
"But in my view – and I know, across iwi katoa – it doesn't go far enough. It delays yet again the issue of iwi and hapū interests in wai, so in my view it's another missed opportunity to fulfil the Crown's treaty obligations to iwi and hapū."
She said successive governments continued to fail in that obligation.
"We've got to get to a point where we stop kicking the can down the road because it's hard to resolve and successive governments have done that.
"Without fully understanding the implications of this document we will be holding the government to account for its actions and obligations as the treaty partner."
She said iwi could no longer take a back seat on the issue.
"Again, we must acknowledge the gains and I acknowledge the Minister and everyone who has fought to have that as a guiding principle but we now must put the words in the action and iwi can no longer be sidelined in this conversation.
"It's a bit like the local government taking from the Waikato river, again, this is about being central to the decision making about what is in the best interest of us all and that is a role for iwi to claim."
Join Geezgo for free. Use Geezgo\'s end-to-end encrypted Chat with your Closenets (friends, relatives, colleague etc) in personalized ways.>>