Opinion – UK Prime Minister Boris Johnson has long been known as something of a chancer with a lazy lack of interest in detail: as a journalist he preferred invention rather than factual investigative reporting.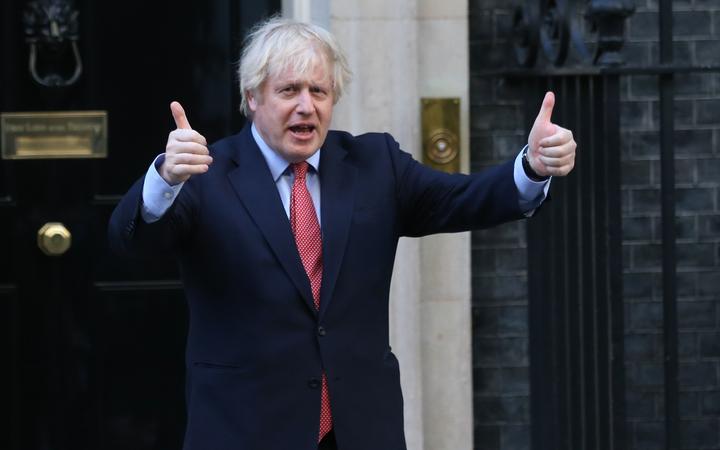 Photo: AFP
His time as mayor of London was punctuated by financial mistakes – garden bridges to nowhere, buying bendy buses, and the purchase of illegal riot control water cannon.
During the Brexit referendum he promoted stories of would-be immigrant Turks massing at the borders of the UK and £350 million a month saved for the National Health Service after departure.
Boris Johnson campaigning to leave the EU during his time as mayor of London. Photo: AFP
As foreign secretary his careless comments in 2017 resulted in the continued detention by the Iranian government of an innocent female British-Iranian journalist falsely accused of spying.
He celebrated becoming UK prime minister and then Brexit at the end of January and took a long holiday with his fiancée. But Covid-19 suddenly appeared, distantly at first and no bigger than a man's hand. He took little heed for weeks.
He and his handpicked new Cabinet of Ministers (many previously sacked from his predecessors' governments) were wholly unprepared for what the pandemic meant. Or how to deal with it.
The UK now has the worst record of infection of any European country, and deaths – officially well over 40,000 – are in fact second only to the United States.
Last week Johnson announced he was "taking control". The polite and simple question from the Leader of the Opposition Sir Keir Starmer was "well, who has been in control up to now?"
Johnson was unable coherently to answer that.
The pandemic has meant a long shutdown of the UK's economy, continuing for a while to come. As if that were not enough, Brexit, always lurking in the background, has returned to haunt the UK government. The twin challenges to his government have come together in ways unimaginable a few months ago.
Pharmaceutical industry leaders have said that medicines stockpiled in case of a no-deal departure from the EU at the end of this year have already been used up in the Covid-19 crisis. There is, they say, doubt about acquiring replacements in the event of no deal now.
London is slowly returning to normal after a long shutdown of the UK's economy due to Covid-19. Photo: AFP
Johnson rules out extension to Brexit negotiations
According to the political deadlines agreed, the end of June this year would be the date for a decision on any extension beyond 31 December to the transit period for negotiations with the EU. Johnson has already said there will be none, whether or not a deal has been signed.
What remains to be negotiated are fisheries policy, human rights policy, levels of state aid, the actual terms of a trade deal and the remaining questions of the Irish border. Then au revoir.
According to the EU's Irish Trade Commissioner Pat Hogan: "There is no real sign our British friends are approaching the negotiations with a plan to succeed".
All of the remaining questions have economic and food supply consequences both for the UK and for the EU. For example, 71 percent of the fish caught by UK fishermen is currently sold in the EU. Negotiating an agreement in this area is immensely difficult.
One hundred species of fish have to be hooked. If there is no agreement then the UK will have to patrol an area of 80,000 nautical square miles to enforce the no-agreement rules. And prevent those French from fish piracy.
There has been an increase in Royal Navy patrol vessels armed with cannon for the purpose. They are known as the "Cod Squad". Britannia still rules the waves, okay?
An end to Johnson's salad days?
The UK buys 90 percent of its lettuces, 80 percent of tomatoes and 70 percent of soft fruit from the EU. These may well not be Johnson's salad days.
The chances of a deal are fast vanishing and the UK government is already limbering up to loosen the terms of a possible trade deal with the US. Environmental and animal welfare regulations will probably be relaxed so that chlorinated chicken and hormone-stuffed beef will be regulars on British dining tables.
According to the UK's chief EU negotiator David Frost, the prime minister will now "take control of negotiations". Good luck with that one.
* David Townsend

Join Geezgo for free. Use Geezgo\'s end-to-end encrypted Chat with your Closenets (friends, relatives, colleague etc) in personalized ways.>>