A New Zealand-based venture has begun work to try to find a Covid-19 vaccine, a celebrity cat has come out of lockdown to be awarded by a mayor, and tourism operators and the wool experts hope they can see a pathway to patch up some of their woes.
On the world stage, the United States has just about hit the horrific milestone of 100,000 deaths from Covid-19, the UN warns of major gaps in international disease prevention programmes due to Covid-19 disruption, and drugs touted and used by President Donald Trump have been proved to increase the mortality of some Covid-19 patients.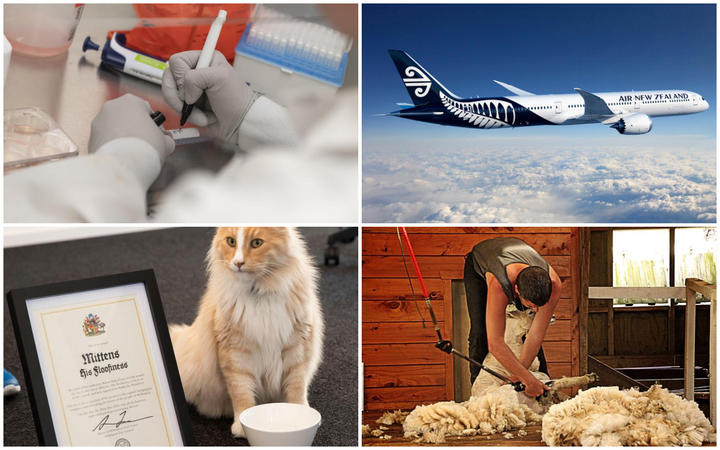 Photo: AFP / Air NZ / Wellington City Council / 123RF
As Covid-19 spreads around the world, it can be daunting keeping up with the information. For RNZ, our responsibility is to give you verified, up to the minute, trustworthy information to help you make decisions about your lives and your health. We'll also be asking questions of officials and decision makers about how they're responding to the virus. Our aim is to keep you informed.
Case updates for New Zealand for 23 May
There were no new cases of Covid-19 in New Zealand today, the Ministry of Health said.
Only one new case has been reported since Monday, and one person remains in Middlemore Hospital with the disease. The total number of confirmed and probable cases recorded stands at 1504, of which 1154 are confirmed.
The ministry says more than 30,000 people signed up to its Covid Tracer app yesterday, and it encourages those who haven't, to download it.
It says 5604 tests were completed yesterday, bringing the total of people tested to more than 250,000, and reminds people to follow the rules over the weekend, with only 10 people allowed at a gathering. More details from the update here.
A vaccine from Aotearoa?
A New Zealand company says it's early days, but it is cautiously optimistic about its chances of developing a Covid-19 vaccine.
A group of local investors and a Canadian-based, New Zealand academic have contributed $500,000 to carry out a clinical trial.
Jeff Douglas, the managing director of Douglas Pharmaceuticals, is chair of the company: the Covid-19 Vaccine Corporation Limited. He said they are about to start to pull in experts from around the country for the work on developing the medicine, with some assistance from overseas.
"This is going to culminate in a unique sort of strategy for a vaccine, but one that will be developed here in New Zealand, and let's hope it's successful."
Douglas said if the company finds a successful vaccine, it would provide more security for the New Zealand population.
(file photo.) Photo: AFP
Post-lockdown celebrations for Wellington's favourite feline Mittens
Wellington celebrity about-the-town cat Mittens was presented with the Key to the City on Friday by the mayor, after the presentation was delayed for several months because of the coronavirus lockdown.
Mittens has a following of more than 45,000 people on Facebook, and has attracted international media attention for his regular wandering antics dropping in to sleep on desks and in shop displays in the inner city.
In recent months the Turkish Angora cat's adventures were curbed as he was kept home during New Zealand's level 4 lockdown.
The city council said the award was originally planned for March, and was delayed by the lockdown but Silvio Bruinsma, his owner, was keen for the good news to be announced to help lift spirits.
"It's a great community story at a time when Wellington needs it most, and reflects the positivity he has brought to the people he encounters on his adventures," Bruinsma said.
Mittens recent visits including making himself at home on the stage sofa in a bar, a trip to a strip club, and an appearance outside a dog grooming business.
Mittens the cat was presented with the key to the city of Wellington. Photo: Supplied
Wool industry concerned about shortage of shearers
The wool industry is talking to the government about special dispensations to bring in Northern Hemisphere shearers this summer.
Local shearers are usually joined by overseas workers, but restrictions on travel and quarantines mean that may not happen.
The Shearing Contractors Association told RNZ's Country Life that contractors are looking at several ways to overcome the looming shortage of shearers and shed-hands between November and February.
Training more locals, or bringing in shearers from the Northern Hemisphere are among the options it would like considered.
Photo: 123rf
Tourist operators hope for Queen's Birthday boost
Many areas of the country will be hoping for a tourism boost next week, as demand for flights picks up for Queen's Birthday weekend.
Air New Zealand is putting on an extra 100 flights in and out of several regional airports for the long weekend – including Invercargill, Blenheim, Nelson, Gisborne, Hamilton, Whangārei and Kerikeri.
The national carrier also announced this week it is restarting its Wellington to Queenstown route in time for Queen's Birthday, and adding extra flights to the tourist town from Auckland.
Disruption to vaccinations programmes could leave children vulnerable – WHO
The United Nations is warning that disruption to vaccination programmes because of the coronavirus could put 80 million children at risk of catching preventable diseases.
"Covid-19 has caused unprecedented problems for health workers trying to carry out life-saving immunisation programmes. Travel restrictions, delivery delays and lockdowns have jeopardised decades of progress in tackling diseases such as diphtheria, measles and polio," BBC correspondent Simon Ponsford reported.
"The UN and the Vaccine Alliance say that can't go on, and warn that millions of lives of children under one year old are at stake.
"They want vaccination programmes to start again as a matter of urgency, saying that the world must not let the global fight against one disease come at the expense of gains in the battle against others," Ponsford said.
– BBC
Anti-malarial drug touted by Trump for Covid-19 raises risk of death, study finds
An anti-malarial drug US President Donald Trump has been taking, and a closely related similar drug, have been tied to an increased risk of death in hospitalised Covid-19 patients, a large study has found.
The study, which was published in medical journal The Lancet, looked at more than 96,000 people hospitalized with Covid-19. Those treated with hydroxychloroquine or chloroquine had a higher risk of death and heart rhythm problems than patients who had not been given the medicines.
It also found no evidence of benefits to patients taking the drugs.
Demand for the decades-old hydroxychloroquine has surged as Trump repeatedly promoted its use against the coronavirus, urging people to try it. "What have you got to lose?" he asked. He confirmed last week that he has been taking it.
– Reuters
US approaches 100,000 deaths, and Brazil overtakes Russia for number of cases
With more than 96,000 deaths from Covid-19 the US is close to a stark milestone. The country has recorded 1.6 million cases.
New York is still the worst hit US state, with close to 29,000 deaths, almost three times the amount of the next closest state – neighbouring New Jersey.
Brazil has overtaken Russia in terms of the number of Covid-19 cases, with Reuters noting it has almost 331,000. The true number of cases and deaths is likely higher than the figures suggest, as Brazil was slow to ramp up testing.
– RNZ / Reuters