Brazil's Covid-19 death toll overtook Britain's on Friday (local time) to become the second highest in the world after the United States, according to numbers released by the Brazilian Health Ministry.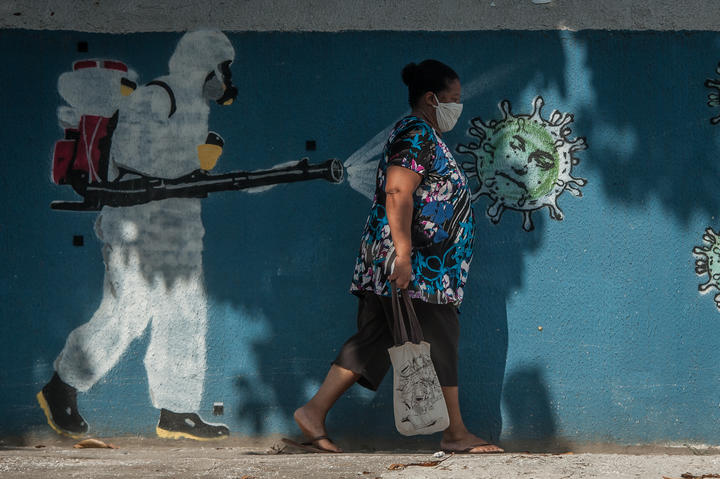 A woman walks past graffiti in Rio de Janeiro depicting a man performing a disinfection and the face of President Jair Bolsonaro represented by a virus. Photo: Allan Carvalho/NurPhoto
Brazil reported a total of 828,810 confirmed cases of coronavirus, with 25,982 new infections in the last 24 hours, and another 909 fatalities, raising the death toll to 41,828, the Health Ministry said. Of the total cases of Covid-19, 365,063 have recovered, the ministry said.
In the US, health officials have urged Americans to continue adhering to social distancing and other Covid-19 safety measures, and warned that states may need to reimpose strict restrictions if Covid-19 cases spike.
In recent weeks, experts have raised concerns that the reopening of the US economy could lead to a fresh wave of infections. About half a dozen states, including Texas and Arizona, are grappling with a rising number of coronavirus patients filling hospital beds.
Most Americans support stay-at-home orders and said they always or often wear face coverings in public , according to an online survey conducted early May of over 2,000 adults in New York City and Los Angeles. Most also said they would feel unsafe if restrictions were lifted.
The officials said summer public gatherings could boost infection rates, and urged participants to follow social distancing guidelines. They did not comment directly on rallies associated with the 2020 U.S. presidential election, but said the guidelines speak for themselves.
The US Centers for Disease Control and Prevention (CDC) on Friday (local time) reported 2,016,027 cases of new coronavirus, an increase of 21,744 cases from its previous count, and said the number of deaths had risen by 947 to 113,914.
British economy battered
The UK economy shrank by a quarter in the March-April period as entire sectors were shuttered by the coronavirus lockdown.
"This is catastrophic, literally on a scale never seen before in history," Paul Johnson, director of the Institute for Fiscal Studies think tank, said. "The real issue is what happens next."
The Organisation for Economic Co-operation and Development says Britain – with its huge services industries that are hit hard by social distancing measures – could suffer the worst downturn among the countries it covers, with an 11.5% contraction this year.
The number of people testing positive for coronavirus in England is continuing to fall, according to estimates from the Office for National Statistics.
About one in 1700 people were infected between 25 May and 7 June, or 33,000 individuals, compared to one in 1000 before then.
The figures are based on 20,000 tests on people in private households.
Everyone in the study was tested whether they had symptoms or not.
The ONS figures are thought to give a good picture of the proportion of people infected with the virus in the community – but they do not include infections in hospitals and care homes.
However, there are wide margins of error around the figures because they are based on small numbers of people testing positive.
As of 11 June (local time), there were 202 more deaths reported in the UK, taking the total number of deaths with a positive test for Covid-19 to 41,481 since the epidemic began.
Italians embrace coronavirus tracing app as privacy fears ease
Italy, the first major European country to roll out a smartphone app to trace Covid-19 infections that does not rely on a centralized database, has already seen 2.2 million downloads in 10 days, a sign Italians are setting aside privacy concerns.
The government, like those of other European countries hit by the virus, is touting the software as a vital tool to help avoid a second wave of infections. Germany launches its own version next week.
"We want a summer in which tourism is as safe as possible. This app can help us resume activities after the lockdown," Technological Innovation and Digitalization Minister Paola Pisano told Reuters.
Italy was the first European country to be hit hard by the coronavirus and has suffered more than 34,000 deaths. A lockdown drove infection rates sharply lower, but fears remain of a renewed flare-up later this year.
Record rise in India virus cases raises fear of return of curbs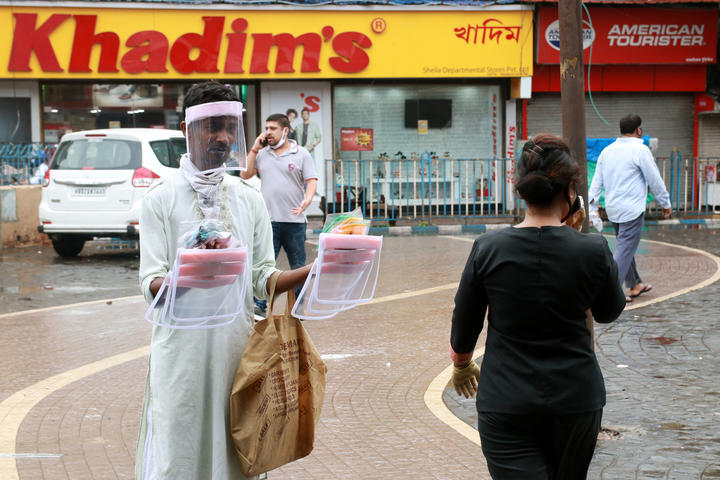 A hawker selling protective gear at a market place in Kolkata, India. Photo: Allan Carvalho/NurPhoto
India reported a record daily increase of novel coronavirus cases on Friday and became the world's fourth worst-hit country, raising the prospect of the return of a lockdown just days after it was lifted.
Anxious to revive the economy after a nearly 70-day lockdown, the government this week opened most public transport, offices and malls, even though health officials said the country was weeks away from flattening the curve of infections.
On Friday, the health ministry said the number of cases had increased by 10,956 from the previous day, with new infections rife in the cities of Delhi, Mumbai and Chennai.
The new cases took India's total number of infections to 297,535, and it replaced Britain as the fourth worst-affected country, according to Reuters tallies.
India's death toll reached 8498, which officials said was small in relation to its 1.3 billion population.
Chinese capital reports new coronavirus cases for second day
China's capital reported two new coronavirus infections on Friday, a day after it declared its first case in nearly two months, prompting officials to delay plans for some students to return school.
The new cases, from a different part of Beijing than Thursday's infection, involved two men working at a meat research center, state media said.
It was not immediately clear how they were infected.
Both men, aged 25 and 37, had had no contact with people from Hubei province, where the coronavirus was first identified, or travelers from overseas in the last 14 days, state media said, though the younger man was briefly in Qingdao city in the eastern province of Shandong.
The Beijing city government said it had dropped plans to reopen school on Monday for students from the first to third grades because of the new cases.
It said restaurants would be inspected and checks made on seafood products and fresh and frozen meats.
– Reuters/BBC
Join Geezgo for free. Use Geezgo\'s end-to-end encrypted Chat with your Closenets (friends, relatives, colleague etc) in personalized ways.>>