"Every night we would go on to hotel's roof and watch all the sorties take place. The bombers would fly over and make a horrendous noise and then about a minute later we'd see the bombs explode."
Brian Turner was just 17 when New Zealand's footballing authorities had a brainwave and accepted an invitation to play their country's first international tournament – in war-torn Vietnam.
Brian Turner (R) in 1981 against Australia. Photo: Photosport
In November 1967, Vietnam was the last place on earth you'd want to go. By the start of the year the war had intensified to the point where the Americans now had half a million troops stationed in Vietnam battling the communists in the north.
Still, the thinking in Saigon (now Ho Chi Minh City) was that a football tournament would signal that it was 'business as usual' in the 'free' part of Vietnam and the willingness of seven invited nations gave the government a stick to flay a flag on.
None of the Kiwi squad died or were injured, but cuisine and hygiene would prove a bigger danger with one teenager left critically ill and left behind in a rundown hospital, with his teammates told they were unlikely to see him again.
"We had to get approval that it was a safe trip to undertake, and approval came through and we were able to travel," says Turner, now 70-years-old.
"We played a game in Singapore on the way over and then flew on to Saigon and once we entered Vietnam airspace we had fighter jets either side of our airplane to protect us. Then, when we arrived, we had the American army guarding us all the way to the hotel, which was a fortress.
"When we played the games the stadium was full, there was about 40,000 or 50,000 people there for each game. And around the top of the stadium were guards all the way round and they were armed.
"We knew what would happen every night so we'd just go up to the top of the hotel.
"The bombers would go straight over the top of the hotel at about 2000 feet and they made the most horrendous noise you could imagine. It was a pretty big deal especially for a teenager from Mt Roskill Grammar."
Then there were the activities taking place in Saigon.
"There were numerous times when buildings were blown up. You'd often hear sirens going off but everyone said we were safe as houses. But every now and again you'd hear a bomb go off and a local shopping centre was hit. It was a bit disconcerting but we felt we were safe and had nothing to worry about. We trained at a local ground and that was ringed with guards, so no one could get at us, if they had wanted to."
An Australian report claims that there was an attempt to blow up the hotel but Turner can't recall any time where the violence came to their doorstep.
"Everywhere we went we had armed vehicles around bus and the roads were all closed. It was a warzone but it was still pretty safe.
"I suppose you look back on it now and think it was an extraordinarily dangerous situation to be in but the (New Zealand) government said from day one that we would be safe and therefore we gained their say-so to travel."
Near death's door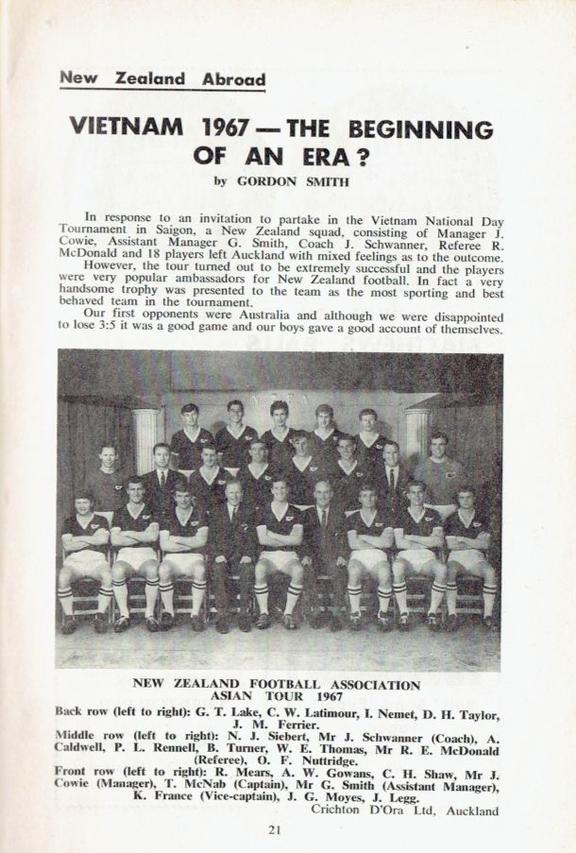 An excerpt on the New Zealand men's football team in 1967. Photo: Supplied
Illness affected the squad with the worst-hit being 16-year-old Dave Taylor, who's condition was so bad he was close to death and had to be left behind to recover.
"We had a few things go wrong, Dave Taylor ended up in a hospital in Saigon and I was greatly affected by that because Dave was a great friend of mine," Turner said.
"The Australian doctor saw Dave, who was initially going to come home with us, but the doc said he couldn't travel anywhere, and if he did go on an airplane he would die.
"I visited him in the hospital and it was an over-worked, horrible hospital with bodies everywhere and poor Dave was lying there in his bed and on his ownsome. He stayed in that hospital for another 10 days and apparently he was close to death. We travelled without a doctor in those days because of the cost, so Juan got in touch with the Australian squad and asked if their doctor could intervene."
Striker Earle Thomas says Taylor wasn't the only player who fell crook, and he replaced Jimmy Ferrier for the second game against Singapore.
"The food wasn't the greatest," Thomas says with remarkable understatement.
"I remember one day we were served a meal which we all thought was steak so we hurled into it and when we asked for some more, we were told it was dog that we were eating. Ironically, that was the best meal we had."
Double strike
Thomas was only 18 and playing for Auckland side Mt Wellington when he was called up.
He came on as a sub against Australia for his international debut in New Zealand's opening match as a substitute and scored twice against Singapore in his second match, and first start – Turner netted the other goal in a 3-1 win.
Thomas, who had played under Schwanner for the New Zealand U-23s prior to the Vietnam adventure, shudders today at the thought of going over there, something he notes would be akin to going to Syria for a tournament these days.
"I think the place across the road was bombed about ten days after we left," he notes dryly.
"One day inbetween games we got a bus that was going to the beach and some American troops came over and said 'hey what are you guys doing?' and told us that there was fighting about a mile down the track and to go back."
He felt far from safe and was "on edge" all the time.
"You were always wary that a stray bomb might come in your direction or that fighters would try to attack. It wasn't a safe place to be at all.
"After that anything else I experienced playing for New Zealand was like a cakewalk."
Doors opened
Turner was a prospective forward at the time playing for Eden AFC in Auckland when he got the call.
"I was just learning the game at the time and this was my first opportunity to play for New Zealand and I saw at as a great chance to show what I could do. The tournament opened up doors to me and two years later I went to England to play there."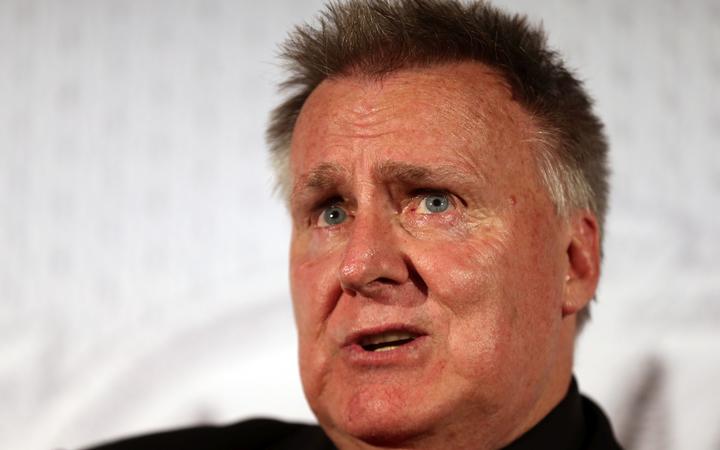 Brian Turner in 2016. Photo: Photosport
The eight teams involved in the Cup, also known as the Quốc Khánh Cup, were from sympathetic nations, but the United States itself wasn't among them.
The two Oceania sides were joined by South Vietnam, Thailand, Singapore, Malaysia, South Korea, and Hong Kong.
Versions of the tournament had taken place since 1961 but until 1967 it had been a strictly south-east Asian affair.
In 1967 the decision was made to broaden the event to international sides, nations that supported the US war effort.
New Zealand had done so since 1963 and would do so till the bitter end in 1975, sending a total of 3000 military and civilian personnel, of whom 37 never came home.
Led by experienced Hungarian-Chilean coach Schwanner, the New Zealand side was a mixture of youth and experience.
Turner, Thomas and Taylor were among the pups who relied on veterans Paul Rennell – who came out of international retirement for the trip – Ken France, who once played at England youth level with Bobby Moore, and former Notts Forest midfielder Tommy McNab who captained the 18-man squad.
As well as the mix of experience it was a cosmopolitan squad – as well as the Englishmen, there were two Scots, Alex Caldwell and Ferrier, and a Serb, Stefan Nemet.
Turner says Schwanner had great faith in young players and great vision for the game.
"As soon as he came to New Zealand he said 'you've got too many old players' and he opened up the door for us young players – Earle Thomas was 18, I was 17, Dave Taylor was 16, and we all became close mates.
"He was the first European coach in New Zealand and as soon as he came here he made great changes to the game."
The first match paired New Zealand with their trans-Tasman rivals who won 5-3 with now legendary Aussies Ray Baartz, Johnny Warren and Atti Abonyi all scoring.
They bounced back in the second game beating Singapore, but succumbed 5-1 to South Vietnam in the final game to finish third of four teams in the group.
Landmines and brawls
While the New Zealanders headed home, the Australian team had its own adventures in progressing to the final, which they won against South Korea.
One Aussie player described the Golden Building hotel as filthy and rundown and their training facilities as nothing more than a local park with no one allowed to go out to retrieve balls for fears of landmines. They relied on Australian soldiers based nearby for decent food.
After beating the hosts, the tension was so bad the Aussies were kept in the stadium after the final whistle.
When they eventually headed for the team bus they had to dodge the rocks heading in their direction.
In their semifinal tie against Malaysia there were brawls and teargas was used to quell the violence.
In 1968 Brian Turner moved to England and signed for Chelsea and although he didn't get any game time with the London giants he did play for Portsmouth and Brentford before returning to New Zealand and going on to star in the 1982 World Cup in Spain. And it all began trying to play football while people were dying in the hell of the Vietnam war.
Earle Thomas played in New Zealand for the rest of his career and won 23 caps, starring in New Zealand's first World Cup qualifying campaign, a virtual play-off against Israel in December 1969 which they lost 6-0 over two legs in Tel Aviv.
Dave Taylor survived his ordeal and would play 47 times for New Zealand until 1981.
Other members to play regularly with New Zealand included Gary Lake, Colin Latimour, and Ray Mears but for many players the adventure would be the highlight of their careers.
In Vietnam itself, just two months after the tournament was held, the north's Tet Offensive began, and the war descended into another ugly, bloody phase.
Craig Stephen
Join Geezgo for free. Use Geezgo\'s end-to-end encrypted Chat with your Closenets (friends, relatives, colleague etc) in personalized ways.>>