Australia's media watchdog has found talkback host Alan Jones breached multiple media rules in his comments about Jacinda Ardern last year.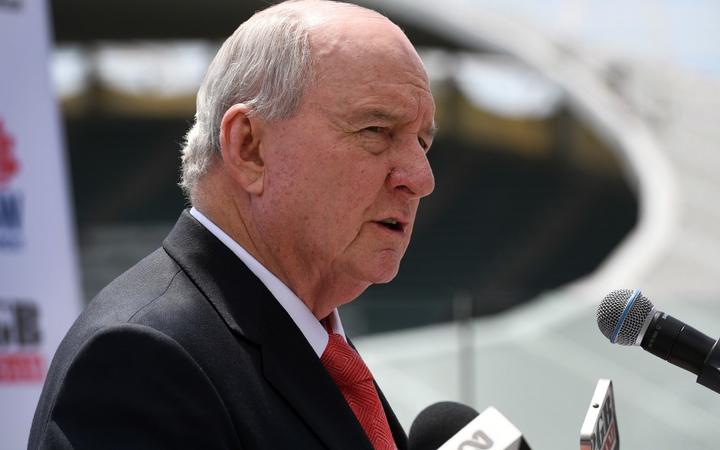 Sydney shock-jock Alan Jones, 79, announced his retirement from radio last week. Photo: AFP
On his radio show Jones said Australian Prime Minister Scott Morrison should "shove a sock down the throat of his New Zealand counterpart".
He also made other comments the watchdog deemed offensive including saying: "I hope he goes for the throat this morning".
He was angered by Ardern's warning at the Pacific Islands Forum in Tuvalu that Australia would need to answer to the Pacific on climate change.
He also described Ardern as a "joke" for commenting on climate change, having claimed that New Zealand's carbon dioxide levels had increased per capita more than Australia's since 1990.
The Australian Communications and Media Authority (ACMA) received more than 125 complaints about the broadcast of The Alan Jones Breakfast Show on 2GB.
ACMA said he breached broadcasting codes for decency with his use of "violent metaphors".
"The repeated use of violent metaphors by Mr Jones and his apparent encouragement of aggressive silencing of Ms Ardern was highly offensive and did not meet contemporary community expectations," the authority's chair Nerida O'Loughlin said in a statement.
"This was evident in the public display of outrage from the community, actions by advertisers and actions by then chairman of Macquarie Media who publicly stated any recurrence of this type of comment would result in the termination of Mr Jones' contract," she said.
Nineteen advertisers dropped their ties with the radio station 2GB over Jones' comments.
The ACMA's investigation also found a number of statements made in a segment about climate change policy were not accurate.
This included an incorrect assertion by Jones presenting figures relating to Australia's and New Zealand's percentage of energy use from solar and wind. The ACMA found that these comparisons were not based on like-for-like data.
Jones later apologised to Jacinda Ardern and last week the 79-year-old announced his retirement from radio.