Looking for the best Instagram marketing tips to boost your business and grow your following? This article discusses the top 66 Instagram marketing tips that every business should implement.
Instagram is one of the most popular social media platforms. Every day, Instagram receives over 95 million videos and photos from active users.
Instagram has over 1 billion active users and is expected to add at least 26.9 million new users by 2020. Over 100 million Instagram users are active in the United States alone.
Instagram has over 25 million business accounts, making it the most valuable social media platform for increasing your business's online visibility.
Instagram is such a big pie of marketing platform that you can split into small bits and improve marketing ROI.
Here are the best Instagram marketing tips to get more followers and brand visibility:
Tip #1- Leverage Sponsored Ads
Did you know that 7 out of 10 hashtags used on Instagram are branded? At least 70% of frequent online shoppers visit Instagram to search for new products in the market that they can buy.
Advertising your products and services on this social platform allows you to meet potential customers.
Try to leverage your ads and expand your customer base on Instagram.
Tip #2- Partner With Influencers
Instagram is home to some of the top influencers. Some celebrities have invested a lot to gain millions of active followers on their Instagram handles. When you partner with celebrities, you can be certain that your marketing message will reach a significant number of potential customers.
Many people are buying products, depending on the kind of Instagram feeds that they get. Partnering with target influencers on Instagram helps you to position your brand before potential customers.
Tip #3- Edit Content Before Posting
Posting content with editing mistakes shows a bad image to your audience.
Therefore, before you can post anything on Instagram, you should edit it.
Ensure the images, video, and written content are all clean before you can post them on your Instagram.
Tip #4- Track The Metrics
How does your brand perform on Instagram? Knowing your performance on Instagram is the first step to improving your exposure on the platform.
You should know more about your follower growth rate, CTR, growth of hashtags, engagement rate, and hashtag interaction.
Once you have information about these metrics, you can easily market your brand on Instagram.
Tip #5- Run Giveaways And Contests On Your Instagram
Contests and giveaways are significant ways of increasing product awareness and growing your hashtags on Instagram. You can run a variety of contests on Instagram without any limits.
Some of the most common Instagram contests include:
Like contests: asking people or your followers to like your pictures on Instagram. This helps you get more likes on Instagram and, most possibly, increase your brand exposure on the platform.
Comment contest: when you want to get some feedback from your target audience, you can ask them to comment on your video or photo.
Photo contest: this is where you ask those who are interested in your brand to post photos on their Instagram accounts using your hashtag. This helps you improve your brand exposure through the hashtag.
Tip #6- Know The Best Content To Post For Target Audience
Not all content is appropriate for your target audience. In most cases, your content will play a significant role in exposing your business to the right audience. Therefore, you must know the type of content that your audience may be interested in beforehand.
For instance, if you want people to know more about your product, then you should focus more on creating customer-centric content with lots of pictures and information about your product line.
Tip #7- Create A Content Calendar
A content calendar is all that you need to come up with the best content for your audience on time. Consistency is everything when it comes to social media marketing. You should know what content to create in advance and post it when the right time comes.
With a content calendar, you can create trending content that will increase your hashtag interaction and growth rate.
Tip #8- Cross-promote Your Instagram
If you have active accounts on other social media platforms like LinkedIn, Facebook, and Twitter, you can use them to promote your Instagram.
Ask your audience on other social media platforms to follow you on Instagram.
Use tools such as Hootsuite to post your Instagram content on other social platforms. This way, you can increase your brand visibility and exposure on Instagram.
Tip #9- Advertise On Instagram
With a paid posts feature on Instagram, you can easily add external links to your content and redirect your audience to your business website.
Focus more on building your brand on Instagram so that your potential customers know more about your product and visit your business when they want to buy your products and services.
Some tips for marketing your brand on Instagram include:
Limit the number of product pictures that you post on the platform and use real people on the pictures that you post.
Ensure you are active most of the time to interact with comments on your feed.
Don't make your Instagram look more promotional. Use more natural and informative language and let your audience follow your brand at free will.
Tip #10- Set Up A Professional Business Profile
When you register your business on Instagram, you must ensure you have a complete bio on the platform. Use a photo that is relevant to your brand and the right username that your customers can search easily.
Take some time to come up with a unique and clear bio with at least 150 characters. Also, include your official email and site link on the bio to drive traffic to your business site.
Tip #11- Use Instagram Stories
Being creative and original on Instagram is one effective way of increasing your exposure. Come up with Instagram pictures, stories, and post them on your account.
Although Instagram stories will disappear in the next 24 hours, most of your followers are likely to share them and increase your exposure. Instagram Stories is also a great way of entertaining and engaging your followers with consistent content.
Tip #12- Migrate To Instagram Business Profile
This Instagram marketing tip is for businesses and not individuals. If you intend to start promoting your business and brand on Instagram, you must first switch to a business profile. Create a complete business profile with all the details about your business so that your audience can interact with your account freely. The benefits of setting a business profile include:
Increase the possibility of your account getting noticed with all your followers on the Instagram feeds they get.
You can design, create, and post your unique Instagram adverts without relying on Facebook tools.
You get unlimited access to the Instagram analytics tool that you can use to gain some insights for your content.
Tip #13- Cross-promote With Target Influencers
Some of the biggest brands in the market are paying influencers to share their products and cross-promote them on various social platforms. You can also do the same by paying them some small amounts of money to market and endorse your products.
Also, as a startup business, you can reach out to target influencers and ask them to become your brand ambassadors on Instagram in exchange for some payment.
Tip #14- Post At The Right Time
Just like email marketing, to ensure your Instagram posts reach the majority of your followers, you should know the right time to post.
If you time your posts well, then you are more likely to increase your exposure and engagement rate. Try posting on Instagram at different times to know the exact time that most of your followers are online.
Tip #15- Know When It Is Not Right To Post
Sometimes you may have limits on what you can post and when you can post them on Instagram if you intend to get the best results. There is a likelihood of people ignoring your posts if you post them at the wrong time.
Most social platforms have trending issues that you should always confirm before you can post anything. Your followers may be unwilling to read anything that diverts their attention if there is a trending hashtag that they would like to follow and comment on.
One of the greatest Instagram marketing tips is to always test your posts until you can know the right time to post so that you get maximum results.
Tip #16- Consistency Is Key
The only way to win your audience's trust is by being active on Instagram. Post quality, original, and highly informative content on Instagram at least twice a week.
Also, you should not forget to log in to your Instagram every day to find out what is trending and maybe respond to some of the comments from your followers. Avoid sporadic bursts of image uploads because they easily drop off the audience.
Most successful brands are using branded hashtags to respond to customer questions and tag contest submissions.
You can also use them to help users locate your messages on Instagram.
Tip #18- Have A Strategy
What is your goal for creating a business profile on Instagram? Do you want to increase your brand awareness or drive more traffic to your website?
Having a goal helps you avoid posting random content and limiting yourself to posts and activities that help you realize your goals on the platform.
Have a clear vision in all images that you post on Instagram and make your marketing messages consistent with your goals.
Tip #19- Connect Your Account To Facebook
Facebook compliments Instagram. The latest study shows that almost 95% of Instagram users have active Facebook accounts. Therefore, you can cross-post between the two platforms and keep both your Facebook and Instagram followers entertained.
Always share your Instagram posts on Facebook and limit the time you spend on creating content for each platform.
Tip #20- Use Your Bio To Create An Email List
Instagram does not allow users to include links on the images they post. Therefore, when creating your business bio, you should not forget to add an external link there.
Your audience can easily click on those links if they want to get more information about your company or want to contact you directly.
You can also use your bio to grow your email list and begin contacting potential customers directly through email marketing.
You can use the 'discover' function on Instagram to find hashtags that are more popular with your brand then add them to your caption. Use the Instagram web interface to search and find out which hashtags are popular in your niche.
Compile a list of top posts from such hashtags and use them to come up with unique content for your marketing campaign on Instagram.
If you want to be consistent on Instagram, you can use daily hashtags that include days of the week. Here are some examples of such hashtags:
Sunday: #sundayfuday, Sunday
Thursday: #tbt, #throwbackthurday
Wednesday: #wcw, #woofwednesday
Tip #23- Grab That Trending Hashtag
Social media profiles are always having something trendy, and Instagram is not an exception. When you notice a trending hashtag on the platform, you can use it to expose your brand to a larger audience and drive more traffic to your business.
Trending hashtags have the power to increase the number of views you can get for your video content or comments and likes you get on your picture. Always grab them and make it work for your brand.
You should not be afraid to use those hashtags that positioned your posts to the target audience in the past.
Evergreen tags give you some guarantee that your posts will reach the audience. Therefore, keep this Instagram marketing tip in mind and always include evergreen tags on your posts regularly to increase your brand exposure.
Tip #25- Think Before You Post
Before you can post that image or video on Instagram, you should take your time to think about it. Is it right for the audience, and will it serve its intention? Remember, your target is to promote your brand on Instagram.
Do not post anything that you will regret later because of its negative impact on your marketing campaign.
Tip #26- Engage With Your Audience
If you want to keep your Instagram followers coming for more, then you should engage them in all your posts. Start by reading and commenting on their posts.
Offer your followers some advice if they have mentioned your brand on their comments. Also, as mentioned earlier, you can use contests and giveaways to easily engage your followers.
Tip #27- Post Pictures Of Your Products While In Use
Using contextual images to show your products while in use is a great way to win more followers and potential customers to your business.
When posting images about your products, you should focus on those that show how to use your products.
This Instagram marketing tip is a great way to market the products and educate your target audience about the product you are offering in the market.
Tip #28- Show That You Are Updated On Current Affairs
Are you informed about what is trending online? Well, you should focus on showing your followers that your business is up to date with the current affairs.
It helps you to boost your credibility, authority, and professional look. Post some relevant books and industry's leading publications on your Instagram handle.
Tip #29- Filter All Your Photos
Instagram is all about photos, right? That means you have to ensure the photos you post on your Instagram are of top quality. You can use various photo editors to achieve a desirable effect that you want on the photos.
For instance, you can use the VSCO and Camera Roll applications to edit your photos before you can post them on your Instagram.
Tip #30- Post A Quote
Another way of driving more engagement on your Instagram is by posting a quote that is relevant to your industry and products.
Posting a quote is helpful where you do not have a photo or other type of content to post for your audience.
Also, you can embed the quotes on your product images to make them more captivating.
Tip #31- Include Statistics On Your Posts
Numbers don't lie, right? To create facts and make your followers rely on the authenticity of your posts, you should use statistics from some of the recent studies to back up your posts.
Include interesting facts and data that support the information you are posting to your followers to make them look more reliable and useful. Foundr is one of those companies that have been using this strategy to increase their followers.
Tip #32- Mix The Old Content With New Stuff
If you are running low on new content, you can dig into your past content. Do some editing on the content to make it look new.
You can use applications such as Boomerang to add some captions to the content and make it more engaging.
Tip #33- Post Behind-The-Scenes Content
Nothing makes people laugh like watching a behind-the-scenes video. When you post this type of content on your Instagram, you increase the number of loyal customers.
Also, posting behind-the-scenes content is a great way of showing your followers the process you go through to come up with the products or content that you feed them.
This makes them more loyal to your brand. So, if you have not thought about using this kind of content, then you should leap into it and see if it works some magic on your Instagram.
Tip #34- Create And Post A Collage
Collages are another great way of delivering multiple messages to your audience and engaging them with your content at a go. You can use free online tools to create collages for your Instagram.
Some of the free online tools have multiple templates that you can download and use for creating your content. There are many useful tutorials on YouTube, showing you how to use this tip to create great content for your audience on Instagram.
Tip #35- Hide Something On The Photos
If you want your photos to be more engaging to your audience, then you should go as far as hiding something behind them.
For example, Gareth Pon is fond of hiding a small rocket on all the photos he posts on Instagram just to make them more engaging to the followers.
Tip #36- Tell A Story And Be Consistent With The Storyline
Photos are worth a thousand words, and you can use them to tell your audience a story. The tip here is that you can capture a chapter from one of your favorite books and use visuals to explain to the audience what transpired in the chapter.
Visual storytelling is a great way of engaging your audience and keeping them in suspense so that they continue following you on Instagram. When using this strategy, you must ensure you maintain the story and keep your audience within the topic while promoting your brand at the same time.
Tip #37- Use Instagram Carousel
Instagram is now more simple and engaging than before. It allows you to compile up to ten photos on a single post. This allows you to create a photo 'album' that can tell people a story.
Instagram carousel allows you to group different images and post them once. SkinnyMe Tea has adopted this trick to educate their followers about different recipes, share their customer testimonials, and showcase their successful contests.
Tip #38- Tag Some Influential People On The Photos
Tagging people on your photos is another effective way of improving interactivity on your Instagram. The people you tag on your photos should have a large audience that has shown some interest in your products.
The audience can see your photos in the 'tagged photos' section and learn more about your brand.
By tagging influential people on your photos, you increase your audience and get a platform to showcase your products to new prospects.
Tip #39 – Repost Old Photos
Photos create memories. You can repost your old photos on Instagram to remind your audience about the steps your business is making. Everyone loves to be reminded of happy memories, and reposting your older photos is one way of creating some little nostalgia.
Throwback photos are more useful if you lack content that you can post on your Instagram.
Tip #40- Make An Announcement
Instagram may look like the last place you want to announce any developments in your business. While most of your followers do not expect any announcements from you on Instagram, the truth is they will pay close attention to you when you decide to do so.
Use Instagram to announce anything that you feel like your customers should know. For example, you can announce organizational changes, new products that you expect to introduce in the market, or new prices for your product.
Tip #41- Involve Your Audience By Asking Questions
If you want your audience to be actively engaged in your brand activity, then you can ask them questions on most of your posts.
This Instagram marketing tip is helpful if you want to know the number of active followers or loyal customers you have for your brand.
Questions increase tags, which spreads your message to a larger audience. It is also a good way of starting a discussion on Instagram and getting real-time feedback from your customers.
Tip #42- Invite Your Friends From Facebook
Notably, most of your Facebook contacts are also on Instagram. If you have made many friends on Facebook, you can ask them to follow you on Instagram. By doing this, you are increasing your followers and audience.
Those who like you on Facebook are more likely to follow you on Instagram without looking back, and this increases your network of loyal followers. Ask your Facebook friends to follow you on Instagram through direct messages. You can also import all your Facebook contacts to Instagram and reach out to increase your followers.
Tip #43- Know Your Competitors
Always keep your eyes open on what your competitors are doing to learn something new that you can use to your advantage. Follow your competitors on Instagram and find out what your target audience could be looking for in their brands that you are not offering.
You can use Keyhole to find out the most performing posts from your competitors. Also, you can create a separate Instagram account and use it to follow your competitors and learn how they engage and interact with their audience.
Tip #44- Just Joke Around With Memes
People love humor. You can make your audience laugh by simply creating and posting memes with jokes.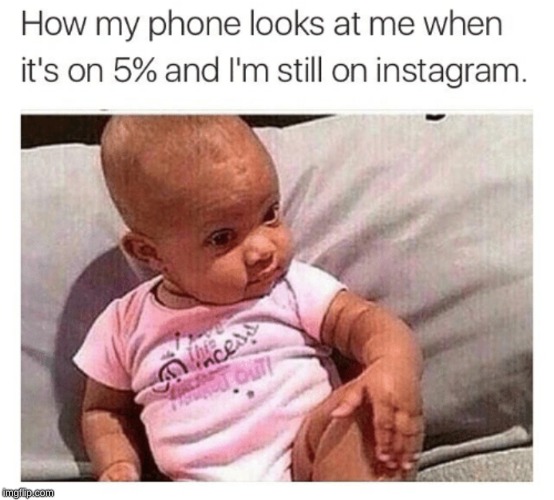 When creating a meme, you should first know the kind of audience you have so that you do not create content that may look offensive to them.
Tip #45- Ask For Feedback
Instagram, just like other social media platforms, gives you a perfect platform to ask questions and get feedback from your audience.
You can ask your target audience for any feedback. When the audience drops their comments on your posts, you will be getting more insights on how you can improve your brand and win their hearts.
Also, when you ask for feedback from your customers, they will feel that you value their opinion in your business.
If you are running low on content ideas, you can try posting some creative content that your fans have made. By posting fan-made content, you get to interact with your followers and make them feel appreciated.
The most effective way to get quality content from your audience is by running online contests on Instagram and asking your customer to post content that can promote your brand.
You can get an example from Contiki. The company has been using the #contiki hashtag to collect quality travel photos from its followers and use them for product awareness on their Instagram handle.
Tip #47- Recognize Positive Customer Feedback
Customers rely on online reviews and referrals to decide on which products and services they can buy. Therefore, you can tap into that by posting some positive customer feedback on your Instagram.
If you have some happy client testimonials, you should not hesitate to create a post that includes them. This will help you endorse your brand.
Share as many reviews as you can of happy customers on your Instagram if you want to gain social proof on your brand.
Tip #48- Take Pride In Your Customers' Success
A business with happy customers should never hesitate to share their customer's success stories. Therefore, you can capitalize on your customers' success stories by posting their pictures on your Instagram.
Use collage to make the trick more effective in engaging your customers and driving more followers to your Instagram handle.
Tip #49- Create The Desire For Your Brand
If your goal is to create product awareness on social platforms, then you should ensure the photos and stories you post are all informative. Most importantly, you should focus on stimulating your customers to have that desire to interact more with your brand.
For instance, if you are running a fast food joint, you can post photos of your best recipes to make your audience more inclined to place their orders immediately by just looking at your product photos.
Tip #50- Post Only Thematic Pictures
When people are celebrating an event like Christmas or a special holiday, you can incorporate that into your themes. A nice Instagram marketing tip!
Most people are likely to search for thematic content on social media, and having such content on your Instagram gives you the platform to market your brand to potential customers.
Tap some influential people on your thematic content so that your hashtag goes viral to a larger audience.
Tip #51- Explain More About Your Brand
What are you offering for the audience? What is your business all about? These are questions that you should always try to answer all your Instagram posts. Follow this Instagram marketing tip and raise awareness about your business.
If you want your customers to learn more about your product and services, then ensure the content that you post explains more about the product. For example, you can come up with an explainer video that clarifies more about your brand.
Tip #52- Make It Fun
It is easier to share funny and happy moments with people than sad and negative moments. Therefore if you have some content that can spur positive emotions to your audience, you should take advantage of that and post it on your Instagram.
Tip #53- Run Ads And Promotional Material  
Instagram is a social place, but still, you can use it to promote your brand and drive more traffic to your website. Come up with promotional and engaging content that you can post on your timeline. No Instagram marketing tips can be as straightforward as this one.
When creating content, ensure you are not too promotional. Also, if you want to advertise your products on Instagram, you must ensure you are using more traditional adverts. Don't create the impression that you just want to sell your products.
Tip #54- Use Third-party Tools To Create Instagram Videos
Visual content is more entertaining, educative, and informative than written content.
However, when creating visuals content, you must ensure you are more creative.
Use tools such as MSQRD and Boomerang to add a little flavor to your visuals.
Some popular celebrities have been using Boomerang to create creative content for their audience, and you should not hesitate to join them.
Tip #55- Add Instagram Locations For Your Business
When people browse for nearby feeds, your business is likely to appear in their search results if only you have set your business location. It is easier to find nearby customers if you set geotags on your posts.
Anyone browsing for photos nearby can easily follow you on Instagram, thereby increasing your audience.
Tip #56- Include CTA On Your Posts
Call to Action (CTA) is another way of asking people to respond based on what you have posted. Ideally, if you don't ask people to act, they are less likely to do so. Therefore, this Instagram marketing tip suggests that when you are creating content for your audience, you can include a CTA and increase the conversion rate of your posts.
Use the concept of CTA as you would apply in other forms of marketing strategy. You can include a CTA on your posts by asking your audience to visit your official website if they want to get more information about your products and services.
Tip #57- Talk To Your Audience
When you begin a conversation by asking your users a question on a post, you must ensure you keep the conversation going. Respond to as many comments as you can. Also, you must ensure you are online to talk to your audience and keep them entertained for long.
Post anything that promotes your brand and keeps your audience within the subject of your discussion.
When posting a comment on Instagram, you should include as many hashtags as you can. Hashtags make you trend on Instagram as many people share your posts and comment. A common trend is posting a photo and including at least 20 hashtags to make it a trend.
Tip #59- Boost Your Visibility By Liking People's Posts
You increase your visibility on Instagram when you like other people's posts. Everyone that you like their content will get a notification and may be interested in knowing more about your brand. Thus, you increase your visibility and brand awareness in return.
Tip #60- Block Destructive Audience
Some people can be destructive and consistent with negative comments on your posts. If at all you value what your audience reads about your brand, then you should not hesitate to block anyone that you think is trolling you or is destructive to your Instagram.
Tip #61- Post Content When Your Followers Are Active
To get the most positive results out of your Instagram marketing, you should only post content when most of your audience is active online. The Instagram algorithm is based on time. That means your followers are likely to see the most recent posts before seeing those that were posted earlier.
To beat the algorithm and ensure your followers notice your posts, you should schedule your posts so that you only post photos and other content when most of your followers are online.
If you are using your PC to edit photos, it may be a bit bothersome to transfer the photo file to your phone before you can upload them to your Instagram.
To save yourself the hassle and time, you can upload them through your PC. You can set an Instagram scheduler on your PC to keep track of your posts and ensure you are always on the right track to achieving your marketing goals.
Tip #63- Be Natural And Human
Honestly, your followers are more interested in your brand once you begin talking to them directly, like a human.
One of the best Instagram marketing tips is to let your followers feel like they are commenting on posts from a real human who can reply to their comments and attend to them. Post something a bit human.
To give your Instagram a more human touch, you can use behind-the-scenes videos and pictures and connect to your followers on a more personal basis.
Tip #64- Slide Into Your Customers' DMs
It may sound unprofessional, but the truth is that once you reach out to your customers in a more personal way, they are more likely to reply.
So, why don't you start sliding to your customer DMs and start a conversation? This way, you can let the customers know that you care about them, and you look forward to making your brand fit their unique tastes and preferences.
Tip #65- Find Out What Is Working For Your Brand
If you want to get the best out of your Instagram marketing, you should keep track of the progress you make. Are you increasing your brand awareness on the platform with the methods you are using?
Use Instagram reporting tools to monitor what is working best for your marketing. With such tools, you can find all the useful metrics on a single dashboard and work on improving your tricks.
You can establish the best content that your target audience will like the most and work towards creating and posting such content during peak times.
Tip #66- Create More Videos
The more videos you have on your Instagram, the more you increase your visibility and get to educate your audience about your brand.
Ideally, most people prefer watching videos to reading content. You can create short Instagram videos and post them to your audience at intervals.
Short videos are easy to create because they do not require high-tech video editing skills and equipment. You only need some simple hacks to come up with creative one-minute videos to promote your brand.
Last Thoughts
Is your company on Instagram? If you already have a business account on Instagram, you will need the Instagram marketing tips listed above to increase your followers and make your brand more visible on the platform.
Don't turn around. Start using these Instagram marketing tips today and watch your brand grow to become one of the most popular on Instagram and other social media platforms.