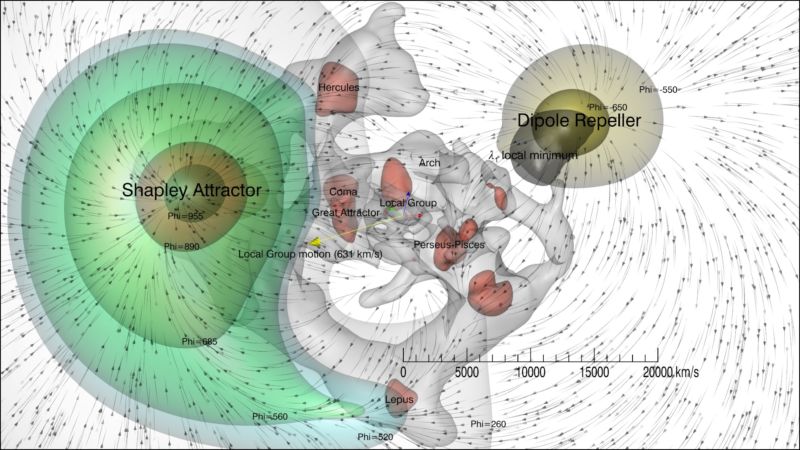 You may not notice it, but our Milky Way galaxy is cruising along at 630 kilometers (~391 miles) per second. That speed is often attributed to the influence of a single gravitational source. But in a new study, a group of researchers has found that the motions of the Local Group—the cluster of galaxies that includes the Milky Way—are being driven by two primary sources: the previously known and incredibly massive Shapley Supercluster and a newly discovered repeller, which the researchers dub the Dipole Repeller.
Shapley's contribution was already known, but the Dipole Repeller's hadn't been recognized prior to this study.
The galaxies in that plot all follow different paths—some proceed through the Great Attractor in the middle of the picture, others curve around the periphery, and so on. They all seemed to have a clear destination: the Shapley Supercluster. But they also seem to have a clear origin point: the Dipole Repeller. When the researchers traced the galaxies' paths backwards, they all originate there. It looks a lot like there's something there repelling the galaxies, as if the Repeller and Shapley formed the negative and positive ends of an electrical dipole, and charges were being driven from one to the other.
That's not what's actually happening. Gravity is the dominant force acting on a galaxy, and gravity, unlike electricity, can't repel—it's only an attractive force. So what's going on?
The Dipole Repeller's true identity is probably, well, nothing. It's actually a void with much less mass than the surrounding space. This has the effect of seeming like a repeller because the nearby space has a much denser concentration of matter, creating a gravitational gradient between the two. The low-density void is the only direction from which there's no force pulling on the galaxy, or at least significantly less force than comes from every other direction.