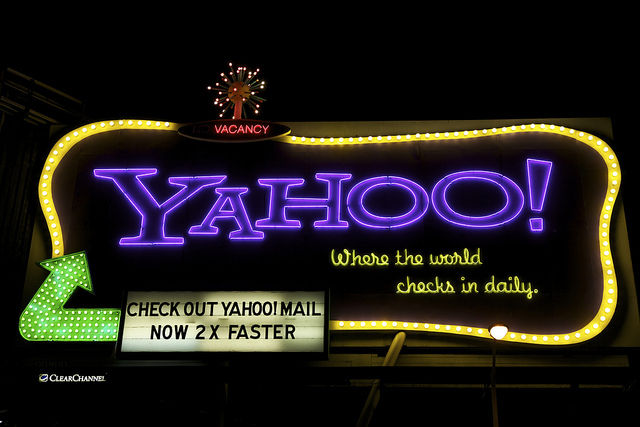 The change to "Altaba" (apparently some non-trademark-infringing sort of reference to Alibaba, in which Yahoo holds a 15 percent stake) depends on the completion of the sale to Verizon of Yahoo Holdings, the new corporate wrapper for its Internet business. Verizon initially offered $4.8 billion for Yahoo last July, but the deal was in doubt after it was revealed that Yahoo had failed to disclose a huge security breach in 2014 to customers (and Verizon). A second major breach, dating to 2013, was discovered later.
Verizon's plan for the Yahoo brand isn't completely clear, other than that it would be somehow aligned or merged with AOL—which Verizon acquired for $4.4 billion in 2015 and is still in the process of assimilating. But Verizon's strongest interest is apparently in Yahoo's mobile advertising platform. Yahoo has 600 million mobile users who connect to the service at least monthly, and while Yahoo's overall ad revenue has been slipping consistently (and precipitously) over the past three years, its mobile ad revenue has been growing—even as its share of the overall mobile advertising market has fallen relative to Google and Facebook.
Odds are that Verizon will still swallow Yahoo, considering how its acquisition of AOL has paid off so far. AOL's ad revenues last year offset much of the losses from Verizon's other corporate operations. The addition of Yahoo, and the conversion of Yahoo's mobile advertising platform to a more open service (the approach Verizon has taken with AOL, which now serves up ads for some Microsoft sites), could help Verizon stay ahead of bleeding in other parts of its business.
There's also the chance that Verizon will find some sort of synergy with all the content created by Yahoo (and its Tumblr and Flickr services, as well as its fantasy sports offerings) to boost its mobile and FiOS network revenues.
Previously valued by some between $1 billion and $4 billion on its own, the patent portfolio has drawn few bidders, so the company that wants to be known as Altaba may end up keeping the patent portfolio as part of its pile of assets. [Update 5:51 pm: A Yahoo spokesperson noted that as per the latest version of the prospectus for the sale of Yahoo's business, Excalibur would be "moving forward" with Altaba, but may be sold at some future date.]