Rumors have been circulating since late last year
that Oracle was planning to kill development of the Solaris operating system
, with
major layoffs coming
to the operating system's development team. Others speculated that future versions of the Unix platform Oracle acquired with Sun Microsystems would be designed for the cloud and built for the Intel platform only and that the SPARC processor line would meet its demise. The good news, based on a recently released Oracle roadmap for the SPARC platform, is that both Solaris and SPARC appear to have a future.
The bad news is that the next major version of Solaris—Solaris 12— has apparently been canceled, as it has disappeared from the roadmap. Instead, it's been replaced with "Solaris 11.next"—and that version is apparently the only update planned for the operating system through 2021.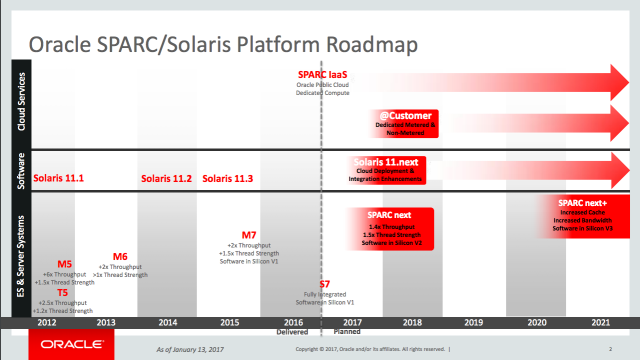 An Oracle spokesperson promised to Ars that he would provide a statement on the roadmap and the future of Solaris this afternoon. We'll update this story when that information becomes available.