The dollar rallied to its strongest level since 2003 against the euro, while gold plunged as the prospect of a steeper path for U.S. interest rates going forward filtered through markets. U.S. stocks rebounded from their worst day in two months as havens retreated.
Financial shares drove gains in major American equity benchmarks, while interest rate-sensitive stocks slipped after 10-year Treasury yields reached their highest level in more than two years. The greenback extended its advance against major and
emerging-market
peers after the Federal Reserve's first, and last, rate hike of 2016 came with an increase in the number of increases expected next year. Gold tumbled to a 10-month low.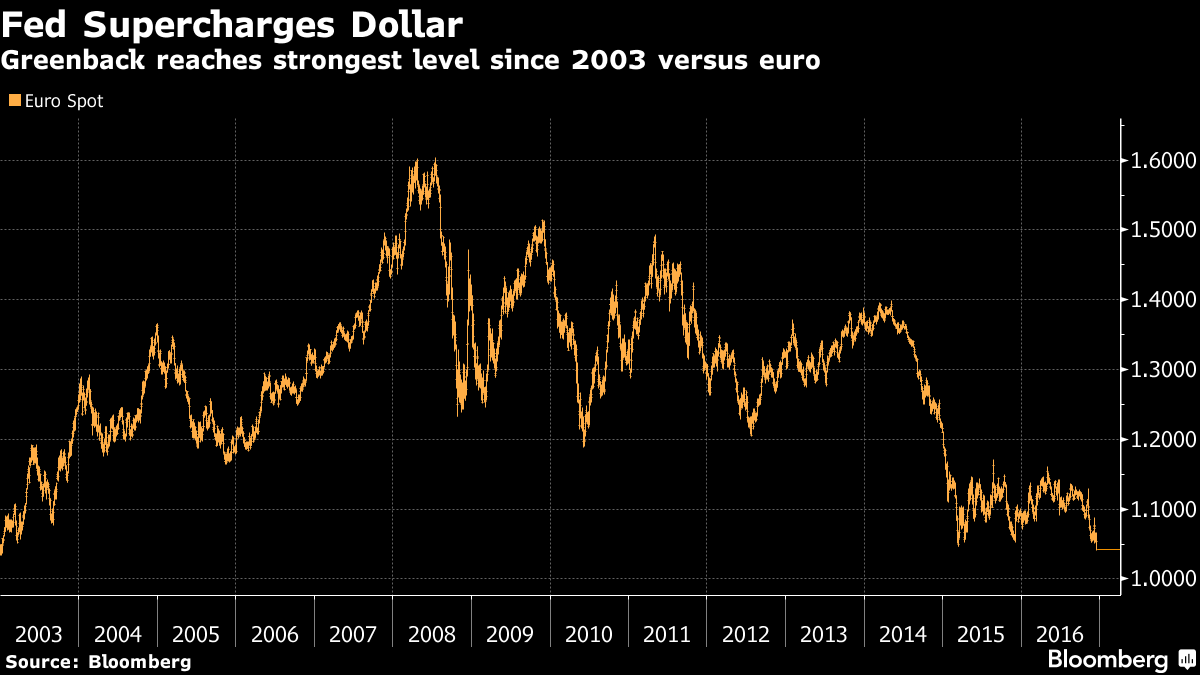 The Fed's pivot toward hawkishness is a step in the
shift away
from central-bank policy dominating market sentiment, with the potential for an increase in fiscal stimulus now in focus. While stocks have rallied and bonds have tumbled since Donald Trump's election as U.S. president fueled bets on an uptick in spending, the Fed stands largely alone in actively tightening policy, fueling the dollar's surge. The Bank of England kept its key rate at a record low Thursday, a week after the European Central Bank extended quantitative easing.
"At the moment it feels like going long dollar is free money, no one loses," said Stuart Bennett, head of Group-of-10 currency strategy at Banco Santander SA in London. "The market believes it can push for another two to three percent relatively risk-free, a nice Christmas bonus. The market never appears to need a reason to be negative about the euro."
Stocks
The S&P 500 Index rose 0.4 percent to 2,262.03 as of 4 p.m. in New York, after sliding 0.8 percent on Wednesday following the Fed's statement.

Financial shares rose 1 percent, with Goldman Sachs Group Inc. up 1.3 percent to lead the Dow Jones Industrial Average to its highest level since Dec. 13.

The Stoxx Europe 600 Index gained 0.7 percent, led by travel providers and banks.

VStoxx Index declined 7 percent after plumbing the lowest level since September 2014, signaling traders are pulling back from hedging against swings in euro area shares.

Futures on Japan's Nikkei 225 Stock Average climbed 0.7 percent in Osaka, while contracts on stock gauges in Australia, South Korea and China declined.
Currencies
The dollar jumped 1.2 percent to $1.0415 per euro, reaching its strongest level since January 2003. The greenback advanced as much as 1.4 percent against the yen.

U.S. consumer prices climbed 0.2 percent in November, matching the median economist estimate and boosting odds that the Fed will be able to fulfill its projected three rate increases in 2017.

The Fed lifted its target for overnight borrowing costs by 25 basis points, or 0.25 percentage point, on Wednesday to a range of 0.5 percent to 0.75 percent.

Sterling weakened 1.1 percent against the U.S. currency after the BoE said its inflation target is more attainable than previously predicted.
Bonds
Yields on 10-year Treasury notes rose three basis points, or 0.03 percentage point, to 2.60 percent, after touching their highest level since September 2014.

German 30-year bund yields climbed six basis points to 1.12 percent.

China's 10-year sovereign yield surged 22 basis points to 3.45 percent, a record increase, as a retreat in the yuan and the hawkish Fed outlook damped expectations around monetary easing in China.
Commodities
Gold futures sank 2.9 percent to $1,129.80 an ounce, after touching their lowest level since February. Futures have slumped 15 percent since the end of September.

West Texas Intermediate crude slipped 0.3 percent to $50.90 a barrel. Libya is preparing this week to ship the first cargo from its largest export terminal in two years.

The Bloomberg Commodity Index fell 0.9 percent to a low for the month amid the dollar's revival.