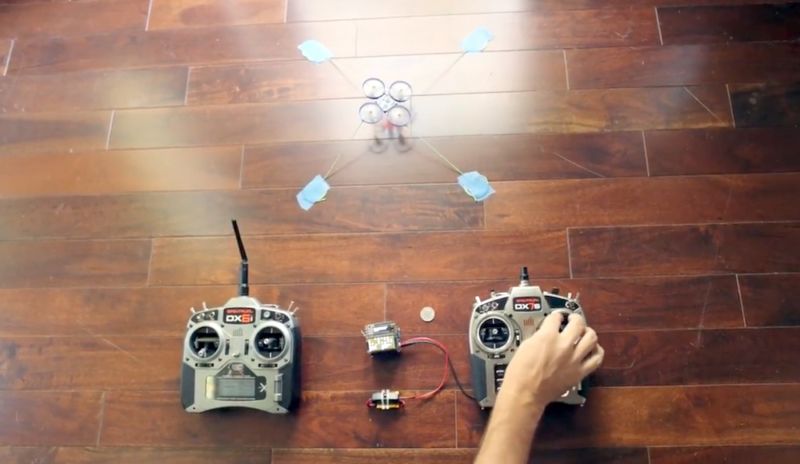 Now, a researcher has demonstrated a significantly more subtle and proactive remedy that doesn't involve shotgun blasts or after-the-fact arrests by law enforcement. It's a radio transmitter that seizes complete control of nearby drones as they're in mid-flight. From then on, the drones are under the full control of the person with the hijacking device. The remote control in the possession of the original operator experiences a loss of all functions, including steering, acceleration, and altitude. The hack works against any drone that communicates over
DSMx
, a widely used remote control protocol for operating hobbyist drones, planes, helicopters, cars, and boats.
Andersson's drone hijacker works because the process DSMx uses to connect a remote control to a drone doesn't sufficiently cloak a crucial piece of information that is shared between the two devices.
"The shared secret ('secret' used loosely as it is not encrypted) exchanged is easily reconstructed long after the binding process is complete by observing the protocol and using a couple of brute-force techniques," Andersson wrote in an e-mail. "Further, there is a timing attack vulnerability wherein I synchronize to the target radio's transmissions and transmit a malicious control packet ahead of the target, and the receiver accepts my control information and rejects the target's."
Possession of the secret gives attackers everything they need to impersonate the vulnerable transmitter. The transmitters are also vulnerable to what security experts call a timing attack that allows the impersonating attacker to effectively lock out the original operator. Wednesday's presentation included the following video demonstration:
Not available in stores
On the positive side, hijacks could allow law-enforcement officers to safely seize control of vulnerable drones that are endangering or interfering with first responders. The hacks could also provide ordinary citizens with a less-draconian way of disabling a drone they believe is impinging on their property or privacy. By measuring the frequency-hopping pattern unique to each craft, the device also gives people a way to positively identify the drones they come in contact with. As Ars has reported previously, legal scholars are uncertain about whether citizens can assert aerial trespass claims. A patchwork of federal and state laws makes it unclear if even local authorities have the legal authority to shoot or hack an aircraft out of the sky.
Andersson said DSMx is a technology for hobbyists that has been marketed for its range, robustness, and other performance merits rather than its security. Now that DSMx is in wide use, it's not clear it can ever be purged of the weaknesses that make his remote hijacking attacks possible.
"My guess is that it will not be easy to completely remedy the situation," Andersson said. "The manufacturers and partners in the ecosystem sell standalone radio transmitters, models of all kinds, [and] transmitters that come with models and standalone receivers. Only a certain set of standalone transmitters have a firmware upgrade capability, though the fix is needed on the model/receiver side."