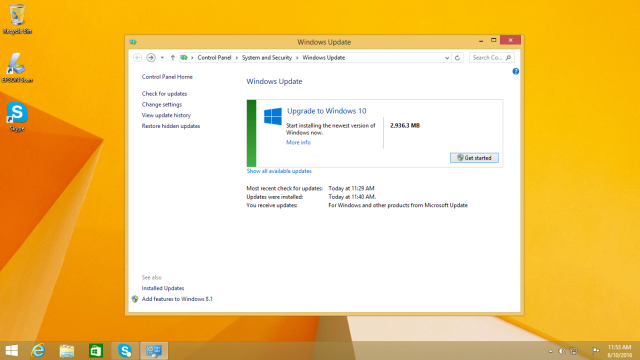 Broadly speaking, the Get Windows 10 program seems to have been successful. Windows 10's uptake was unprecedented for a Windows release, with more than 350 million people now using the operating system—a number that hasn't been updated for several weeks. We hope to hear more at Microsoft's Ignite conference in Atlanta next week. The manner in which the program was operated, however, became increasingly underhanded; toward the end of the promotion, the ads felt straight-up deceptive, as they performed the upgrade even if you clicked the X to dismiss the window. That 350 million users number undoubtedly includes some number of Windows users who wanted to stick with Windows 7 or 8.1 but were tricked into upgrading.
The removal of the software isn't going to undo the reputational harm that Microsoft deliberately caused itself with the aggressive upgrade tactics, but it should at least provide some reassurance that Windows 7 or 8.1 will never again try to push a major update.
That promotion officially ended on July 30, and, for the most part, the advertisements stopped at around that time, too. Needless to say, for all the complaints about the aggression of the upgrade offer before the cut-off, we heard from many people who still wanted a little more time to upgrade and were concerned about being cut off.